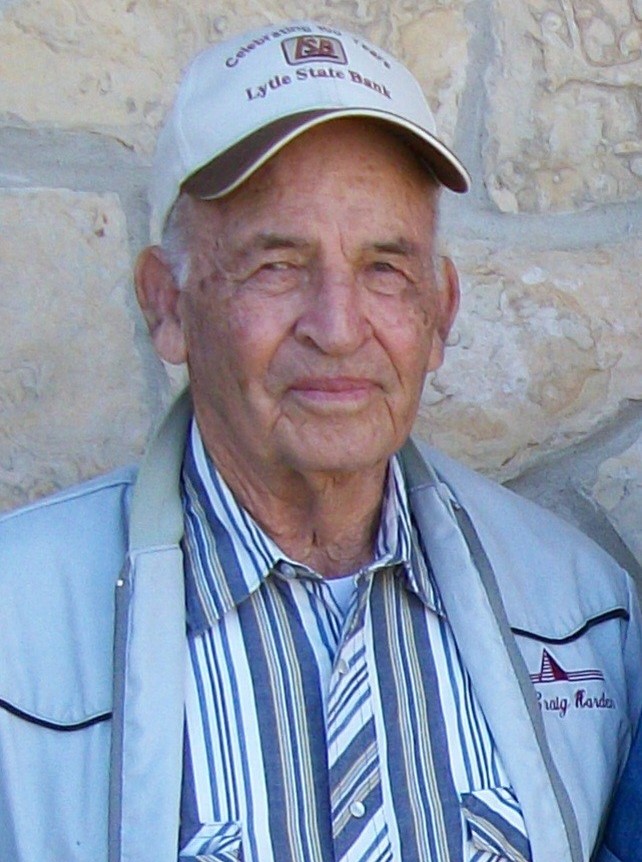 Amos H. Harden, of Kenedy, TX passed away on October 26, 2022 at home at the age of 93. Amos was born on August 14, 1929 in Leesville, TX to the late Clate Samuel and Hattie Rhodes Harden. Amos married Imogene Dudley on September 16, 1950. After serving in the Army, they made their home in Kenedy where he worked and retired from Central Power and Light Company. He was a loving father, grandfather, and great-grandfather. He had many friends in Kenedy and was a long time member of First Baptist Church. He will be greatly missed.
He is preceded in death by his wife Imogene Dudley Harden; parents, Clate Samuel and Hattie Rhodes Harden and 12 deceased brothers and sisters.
He is survived by daughter, Karen (Billy) Brown of South Houston, TX, son Craig (Dixie) Harden of Houston, TX; son Larry (Mary) Harden of Hondo, TX; grandchildren Thomas "Tab" (Stephanie) Brown of Deer Park, TX, Amanda (Josh) Hill of Lytle, TX, Brittany (Matt) Calame of Devine, TX and Dustin (Chelsea) Harden of Hondo, TX; great grandchildren: Aaron and Kyle Brown, Mason Hill, Matthew and Tate Calame, brother-in-law Elton (Louise) Dudley of San Antonio, sisters, Velma Brown of Karnes City, TX and Shirley Bohanan of Luling, TX; and numerous nieces and nephews.
Visitation will be held Tuesday, November 1, 2022 from 11:00 A.M to 1:00 P.M. with Services beginning at 1:00 P.M. in the Eckols Funeral Home Chapel with the Rev. O.E. Davidson officiating. Interment will follow in the Gillett Cemetery in Gillett, TX.
Serving as Pallbearers: Thomas "Tab" Brown, Dustin Harden, Josh Hill, Mason Hill, Matt Calame and Matthew Calame, Jr.
The family wants to express their appreciation to the following special people. The 24 hour Caregivers – Janie Altamirano, Cassie McCoy, Celia Mendoza, Clara Cantu and Sylvia Mireles; River City Hospice; previous Caregiver Brittany Simmons.
Memorials may be made to the Gillett Cemetery Association- C/O Charles Riedel P.O. Box 26, Gillett, TX 78116.