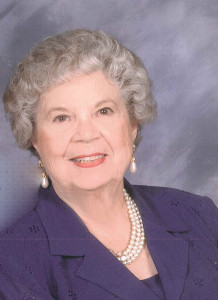 Jewel Norene Davidson was born August 15, 1927, in Choate, Karnes County, Texas to Richard Howard Hunt and Iva Agnes Loftin Hunt.  She was the youngest of ten children and upon birth was given the nickname "Peaches" by her father who said, "she was fuzzy as a peach." She was preceded in death by her father and mother, an infant son, a brother Seth Hunt, and seven sisters Lucille Brown, Leora Carpenter, Edith Sawey, Mable Black, Ada Brown, Gussye Howell, and Marie Hogan and their husbands, as well as daughter Marsha Davidson Holt and identical twin grandsons, children of Marsha Holt.  Peaches married John H. Davidson, Jr. On July 15, 1945 in Choate, Texas.  She is survived by her husband John, a daughter Laura Marie (Penny) Davidson Craig, her husband Dr. William H. Craig, a grandson John William Craig, two great grandsons, and one great granddaughter.
She became a member of the Choate Baptist Church at the age of 12 and in 1950 moved her membership to the Pawnee Baptist Church.  After moving back to Pawnee from Beeville in 1980 she worked at seeing that the Pawnee Baptist Church had a face lift.  She helped design and construct two large stained glass windows for the front of the sanctuary which were her pride and joy.  She taught the young peoples' Sunday School class for several years and then taught the Adult Sunday School class for almost 20 years while serving as the church treasurer at the same time.  She later became a member of the Pawnee Methodist Church.  She was a retired legal secretary having worked for John C. Beasley at the law firm of Beasley & Beasley in Beeville for more than 20 years.  She and her husband lived in the Pawnee Community for more than 60 years.  She had a full and happy life.
Visitation will be Sunday from 5:00 to 8:00 PM at the Eckols Chapel.  Funeral Services will be held Monday May 26th. At 11:00 AM from the Eckols Chapel.  Interment will be in the Pawnee Cemetery.