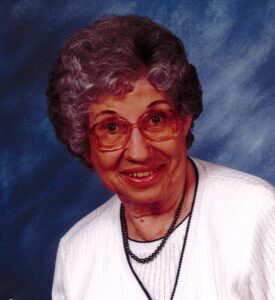 Elline Alma Fenner Schmidt, of Kenedy, Texas was born on July 9, 1933 in Lenz, TX to Carl Fenner and Ida Rippstein Fenner passed away on Sept. 16, 2020 at the age of 87.
Mrs. Schmidt grew up in the Lenz community then her family moved to Kenedy. She graduated from Kenedy High School in 1951 and married Monroe Schmidt Jr. on September 21, 1955 and together they had five children: Cherry, Terry, Merry(deceased), Carey and Laurey.
She became a young widow when Monroe, her husband  was killed in a tragic accident on April 9, 1969. She raised their children by going to work, attending and participating in her children's activities and taking them to the Good Shepherd Lutheran Church of Kenedy.
She was a Brownie and Girl Scout Leader, President of Friends of the Kenedy Library, member of the Kenedy P.T.A., Karnes County Reserve Officer, worked for:  The Advance and The Kenedy Times Newspapers, ASCO Community Council and Chevron.
Unfortunately, in October of 1978, she had a major stroke and spent the next years in nursing homes. Regardless of her circumstances, she always wore a smile. She will be dearly missed.
She is survived by her children: Cherry Pargmann, Terry (Neva) Schmidt, Laurey (John ) Wishert and Robert Beck, her son-in-law; grandchildren: Casey (Kyle) Gisler, Lolin (Rebecca) Schmidt, Teryn Schmidt, Carl Schmidt, Kerry Schmidt, Tres (Toni) Beck, Leleigh (Russell) Mertens, Wendy (Ken) Taylor, Michael Wisher, Robert Schmidt, Amelia Ann Schmidt; great grandchildren: Adalynn Villarreal, Piper Beck, Coki Beck, Abbott Beck, Thorn Bale Beck, Jackson Mertens, Merrick Mertens, Beckett Mertens, Kason Taylor, Cody Taylor, Aiden Taylor, Robert S. Schmidt, Jacob R. Schmidt, Aiden T. Schmidt, Ciara N. Schmidt, Trevor L. Schmidt, Mason S. Schmidt, Ethan K. Lopez, Simon J. Martinez, Jaclyn Foley, Joshania Foley, Kenneth Tyler Schmidt; great grandchild: Andre Joel Fenner; nephews: Dennis (Linda) Fenner, Pat Fenner, and Roy Lee Fenner; and other relatives.
Visitation will be held on Friday, September 18, 2020 from 12:00p.m. to 5:00p.m. at Eckols Funeral Home. Funeral services will be held on Saturday, September 19,2020 at 10:30a.m. at the Good Shepherd Lutheran Church with Pastor Wally Schievelein officiating. Interment to follow in the New Bremen Cemetery.
Pallbearers:Kolin Schmidt, Carl Schmidt, Roland (Tres) Beck III, Michael Wishert, Ken Taylor, Russell Mertens, Robert Schmidt. Honorary Pallbearers: Jackson Mertens, Merrick Merten, Beckett Mertens, Thorn Bale Beck, Kason Taylor, Cody Taylor, Aiden Taylor.
A special thanks to the caregivers at the John Paul Nursing Home. She is now having a good time in Heaven seeing her family and friends, especially Gypsy Barnes her best friend and caregiver.