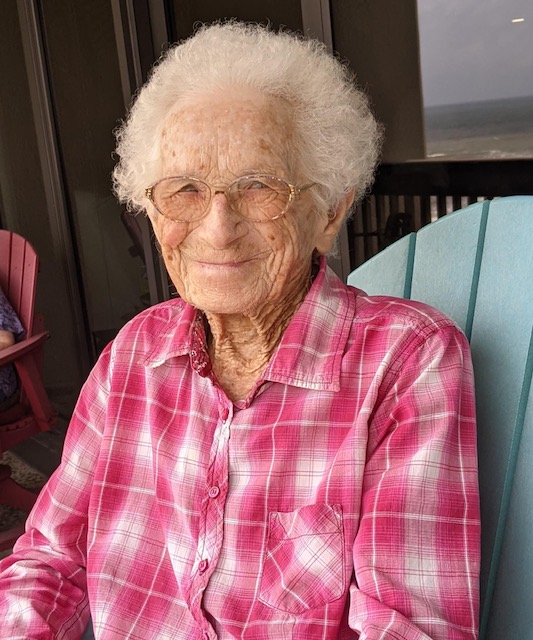 Mrs. Eleanora (Ellen) Genevieve Szalwinski Tam, age 92, of Kenedy, TX passed away peacefully at her youngest son and daughter-in-law's home on Saturday, September 17th, 2022.
She was born in Falls City, TX on Christmas Day, 12/25/1929 and was the oldest daughter of the
late John and Eleanora "Nora" Szalwinski. She's preceded in death by her husband of 53 years,
Daniel Leo Tam; brothers John, Justin and Gervase Szalwinski; sisters Anna Louise Gawlik and
Angie Boehm; son Larry Wayne Tam, and great granddaughter Diana Faith Brysch. She is
survived by sons Terry (Lisa) Tam of Kenedy, Patrick (Joy) Tam of Kenedy and daughter Mary
(Jerome) Liska of Falls City; 10 grandchildren Cheryl (Derek) Villanueva of Corpus Christi,
Michelle Gustafson of Houston, Jason (Amanda) Tam of San Antonio, Amanda Sue Brysch (Eli)
of Kenedy, Samantha and Kassandra Liska of Falls City, Patrick Tam Jr. of San Antonio, Crystal
and Paige Tam of College Station, and Kevin Tam of Kenedy; and great grandchildren Darren
and Madison Villanueva of Corpus Christi, Lincoln and Kayden Gustafson of Houston, Jason
Elliot Tam of San Antonio, Gabriel Leo Liska of Kenedy and soon to be Genevieva Annaleigh
Brysch. She is also survived by sister Julia Szalwinski and numerous nieces and nephews.
Ellen was a faithful parishioner of Our Lady Queen of Peace Catholic Church in Kenedy for
70 years. Through the years she always had a very strong faith and prayer life, praying the
rosary daily. She can be quoted saying, "Never underestimate the power of prayer." She was a
very humble, loving, and kindhearted woman who always put the needs of others before
herself. She loved cooking and gardening and often prepared Sunday meals for the entire
family. She never asked for anything and worked hard her whole life, helping her husband on
the farm and taking care of her family. To the end, she was very thankful for everything anyone
did for her, and she never once complained. She is greatly loved by her family and friends. She
will be missed immensely.
Visitation will be Sunday, September 25th at 5p.m. to 6p.m. with Rosary at 6p.m. Funeral mass will be Monday, September 26th at 10am. Both services will be at Our Lady Queen of Peace Catholic Church in Kenedy, TX. Officiating will be Father Norbert Hermann. She will be laid to rest next to her husband at the Kenedy Cemetery.
Pallbearers serving are Jason Tam, Patrick Tam Jr., Kevin Tam, Eli Brysch, Derek Villanueva, and
Ray Szalwinski. Honorary Pallbearers are granddaughters Cheryl Villanueva, Michelle
Gustafson, Crystal Tam, Paige Tam, Amanda Brysch, Samantha Liska, Kassandra Liska, and
Amanda Tam.
In leiu of flowers memorials may be made to Our Lady Queen of Peace Catholic Church "Altar Society"; mailing address – Our Lady Queen of Peace Catholic Church P.O. Box 89, Kenedy, TX 78119.