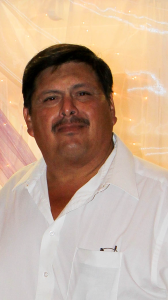 Espidro "Speedy" Rodriguez, Jr., 53 of Weesatche, TX; passed away on November 12, 2015.
He is survived by his wife of 34 yrs. Naomi N. Rodriguez of Weesatche; daughter, Kimberly Rodriguez of Cuero; son, Jay Rodriguez of Osage Beach, Missouri; His mother, Anita Rodriguez of Victoria;  brother, Porfirio Rodriguez and wife Cathy of Victoria; sisters; Janice Hayes and husband Brad of Victoria, TX, and Sharon Reyes and husband John of Edna, TX.  He is also survived by 19 nieces and nephews and 6 great nieces and nephews.
He is preceded in death by his father, Espidro Rodriguez, Sr.
Family Visitation will be held Thursday, November 19, 2015 from 11AM to 12PM with Memorial Services beginning at 12PM in the Eckols Funeral Home Chapel with the Brother Ray Parr officiating.  Interment will follow in the Loma Alta Cemetery.