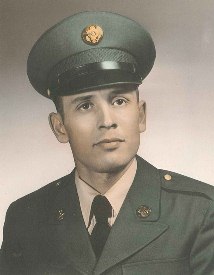 Gilberto S. "Gilbert" Garza, 72, of Richmond, TX, passed away on Friday, February 24, 2012 at the Michael E. DeBakey VA Medical Center in Houston, TX.
Born March 9, 1939, in Bishop, TX, he was the son of the late Felipe Flores Garza and Elvira Sainz Garza.  He worked on the family farm and family businesses in Kenedy, TX.  On November 3, 1962 he married Ofilia Garces of Runge, TX.  He served in the U.S. Army from 1961 to 1963.  While in the service, he completed his high school education.  He was in active Reserves until 1967.  He worked as a Meat Cutter in Houston from 1966 to 1981.  He opened a market & grocery store, with his wife, brother and sister-in-law in Kenedy, TX from 1981 to 1985.  He opened a market & grocery store with his wife in Victoria TX from 1985 to 1988.  He worked grocery in Houston from 1988 until he retired in 2001.
Gilbert is survived by his wife, Ofilia; two daughters, Carolyn Kramer and husband Steven of Richmond, TX, Sandra Lundquist and husband Carl of Kenedy, TX; one son, Gilbert Garza Jr. and wife Misty of Sugar Land, TX; seven grandchildren, Anastacia Lundquist, Alyssa Lundquist, Alejandro Compian, Lee Kramer, Aileen Lundquist, Caleb Garza and Luke Garza; one great-granddaughter, Zoe Ramirez; one sister, Alicia Corbin and husband John of Victoria, TX; four brothers, Felipe Garza Jr. and wife Rosalinda of Stafford, TX, Henry Garza and wife Sylvia of Stafford, TX, Ignacio Garza of Kenedy, TX, George Garza and wife Patricia of Stafford, TX; one sister-in-law, Reyitas Guerra and husband Bonifacio of Sinton, TX; along with numerous nieces and nephews.
In addition to his parents, he was preceded in death by one sister, Lupita, and two twin daughters, Elvira and Eloisa.
Beyond his health struggles late in life, Gilbert was a loving husband, father and grandfather. We will greatly miss him.
A Rosary was recited on Monday, February 27, 2012 at 7:00 PM in the Eckols Funeral Home Chapel.  Funeral Mass was celebrated Tuesday, February 28, 2012 at 11:00 AM at Our Lady Queen of Peace Catholic Church, Kenedy, TX with the Rev. Herman Norbert officiating.  Interment followed in the Loma Alta Cemetery with Military Honors.
Serving as Pallbearers were his Nephews- Jesse "Sonny" Ramirez Jr., Felipe S. Garza, III, Henry Garza Jr., Luis Garza, Alberto Garza, and Travis Garza.