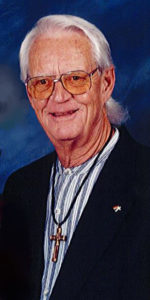 Kenneth Morris Matthews departed this life on Wednesday, October 31, 2018, after a short battle with cancer.
He was born January 10, 1935 in San Antonio to Elven and Lillian Morris Matthews. He attended school in San Antonio and Kenedy. He played football alongside his brother Bubba, for the Kenedy Lions, and graduated from there in 1953. He attended college at Texas A&I in Kingsville for one year. During this time, Kenneth and his buddies had a reputation for stealing the mascots of opposing schools in the middle of the night. He told one story about traveling to San Antonio from Kingsville one night around midnight to steal the Tiger from Trinity University. On the way back, the tiger appeared to be ill. When they got to Kingsville, they were forced to call their teacher, who happened to be a vet. They told him that they had a sick cat. When he arrived, after he got over the shock of seeing the tiger, he diagnosed him with a bad case of motion sickness!
Kenneth enlisted in the United States Air Force in February of 1957, a week before receiving his draft notice. Three months later, he married the love of his life, Arline Best, on May 4th at the St. Paul's Lutheran Church in Karnes City. They lived in San Antonio while Kenneth began his Air Force career. He was stationed at Randolph Air Force Base and Brooks Air Force Base working in the Aerospace program sending animals into space. In 1959, they welcomed a daughter, Karen Sue, into their lives. Four years later, Belinda Lea came along.
In 1963, Kenneth was transferred, taking his young family first to Ireland, then to England. When they first arrived to Ireland, they had to live in a hotel for two months while looking for a house. Kenneth told Arline that he could always tell which room was theirs from the outside by the diapers hanging in the window! Arline would hand wash the diapers in the hotel sink, and hang them on the curtain rod to dry.
They were transferred back to the states in 1966, to Whiteman Air Force Base in Missouri. After nine months of living there, Kenneth decided it was time to settle down and not move his family around anymore. He was discharged from the Air Force in 1967, after 10 years of service, and the family moved back to Texas.
They settled on the Best family farm between Lenz and Coy City where Arline had grown up. Kenneth tried his hand at farming, which wasn't easy in that caliche soil! In the mid 70's, he helped to organize the El Oso area water supply system, to supply farmers in the area with good drinking water.
In 1977, the family moved into Karnes City for convenience sake. Kenneth worked in oilfield construction, eventually starting his own business, Matthews Construction. During this period of time Kenneth enlisted in the Air Force Reserves. In January of 1991, his unit was sent to England to set up a hospital to receive casualties from Operation Desert Storm. Luckily he was only gone from his family for 2 months. He served in the reserves for 10 years, giving him a total of 20 years in the Air Force. He was able to retire with the rank of Master Sergeant.
Kenneth was an accomplished musician and singer, contributing his talents to the choir of First United Methodist Church in Karnes City.
In the mid 90's, Ken and Arline started a gospel group calling themselves "A Joyful Noise". After receiving a letter from a gospel group who already claimed that name, they decided on the name, "The Gospel Truth.". They traveled all over Texas spreading the word of Jesus Christ through their beautiful music, even recording their own CD called, "Precious Memories".
Another passion of Ken and Arline's was camping. They started out back in the 70's with an over the cab camper. Through the years, they were able to upgrade to bigger and better RV's. Their latest one is a beautiful motor home. They traveled all over Texas, including several destinations out of state. Ruidoso, New Mexico was a favorite destination of theirs. Coleto Creek Park was by far their most loved place to camp. They spent several months every year with their special winter Texas friends. This was definitely their, "happy place!". Ken and Arline were active members of the First United Methodist Church in Karnes City and most recently attended Fannin United Methodist Church, enjoying a very special and loving church family. Kenneth loved and praised his Lord and Savior Jesus Christ, and was a wonderful spiritual example for his children and grandchildren. Survivors include his wife of 61 years, Arline; daughters, Karen (Ken) Harvey of Beeville; and Belinda (Gary) Pawelek of Karnes City; grandchildren, Lyndsey (Colt) Campbell of Midland, Ben (Jackie)Pawelek of Karnes City, Zack Pawelek of Selma, MacKenzie Harvey of College Station, and Logan Harvey of Midland; 2 great grandchildren, Kenleigh Campbell and Stone Campbell of Midland; brother, James (Lucille) Mathews of Kenedy; numerous nieces, nephews, and cousins. A funeral service was held on Saturday, November 3, 2018 at 10:00a.m. at Eckols Chapel with Rev. Alex Alvarez and Rev. Carl Schneider officiating. Interment followed in the Karnes City Cemetery with Full U.S.A.F. Honors.
Pallbearers: Ben Pawelek, Zack Pawelek, Logan Harvey, Colt Campbell, Danny Denson, and Jimmy Duffer.
Honorary Pallbearers: Tommy Hayes, Lenny Steffens, Allen Heard, Georgia Lee Swickheimer, Al Kuehl, grandkids, and great grandkids, also, the congregation of Fannin United Methodist Church.
The family would like to thank Dr. Sreedavi Daggubati and staff at Texas Oncology in New Braunfels; Dr. Howard Solomon and the staff at Guadalupe Regional Hospital in Seguin. A special thanks to Dr. Rayford Mitchell and the wonderful nurses and staff at Otto Kaiser Memorial Hospital. Also thanks to Jo Beth, Sharon, and staff of Crown Hospice. An extra special thank you goes to our "night angel" Sara Rodriguez, who stayed with our Dad every night at home. You will never know how blessed we were to have you in our Dads life!.
Memorial Donations may be made to Headwaters for Heroes, 101 High Pint Ranch Road, Harper, TX 78631 ; Fannin United Methodist Church, 9852 US Highway59 N, Goliad, TX 779631.