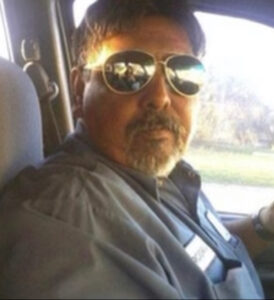 Raul S. Rodriguez,  Age 61 of Kenedy, TX passed away peacefully with his family by his side on October 26, 2021. Raul was born on May 18, 1960 in Kenedy, TX to the late Saturnino, Sr and Adelina Salais Rodriguez.  Raul enjoyed spending time with his children, and his princess Riley. He also enjoyed dancing, fishing and the game room. Raul was a loving father, brother, uncle, friend to many and of the Catholic Faith.  Raul is survived by his two sons, Raul Jr., James Daniel; daughter, Allison Dominique Rodriguez; his granddaughter, Riley Yzavella Rodriguez; sisters, Yolanda, Lupe, Josie, Frances, Renee, Connie, Geneva and Betty; brothers, Reymundo, Saturnino, Jr., and a host of nieces, nephews, great-nieces and great-nephews.  Raul is preceded in death by his parents, Saturnino and Adelina Salais Rodriguez   and brothers, Reynaldo and Ernie Rodriguez.
Visitation will be held Monday, November 1, 2021 from 9:00 A.M. to 12:00 P.M. in the Eckols Funeral Home Chapel with Holy Rosary Services to begin at 12:00 P.M. with the Rev. Norbert Hermann officiating.  Interment will follow in the Sacred Heart Cemetery in Kenedy, TX.
Serving as Pallbearers will be: Augustine Gonzales, Jose Aguero, Michael Prieto, Saturnino Rodriguez, Anthony Sosa, and Ray Kern.