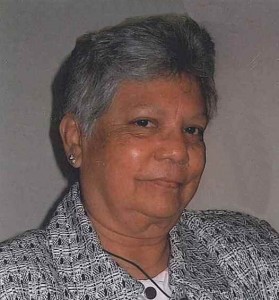 Evangelina "Angie" Salais Garza, 74 of Kenedy, Texas went to be with the Lord, Monday, January 27, 2014 at 5:20 P.M., in the John Paul II Nursing Home in Kenedy, Texas at the age of 74.
Angie was born March 16, 1939, in Kenedy, Texas to Jose Salais, Sr., and Paulita Ramos Salais. She was a lifelong resident of Kenedy, having worked most of her adult life at John Paul II Nursing Home; where she retired from and spent her last days on earth. Mrs. Garza was a lifelong member of Our Lady Queen of Peace Catholic Church.
She is preceded in death by her parents and her daughter, Diane Garza. Angie is survived by her beloved husband of 53 years, Manuel C. Garza, Sr.; her two sons, Manuel Garza, Jr., and wife Maria, and Joe Richard Garza and wife April; her six precious grandchildren, Geoffrey, Sarah, Jacob, Bekah, Adah and Elliana Evangeline Garza; her five brothers, Dan, Joe, Raul, Rey and Jesse Salais, and numerous nieces, nephews and a host of many friends.
The family will receive friends at Eckols Funeral Home on Thursday, January 30, 2014 from 5:00-8:00 P.M., with a Holy Rosary to be recited at 7:00 P.M. Mass of Christian burial will begin at 10:30 A.M., Friday, January 31, 2014, at Our Lady Queen of Peace Catholic Church with Rev. Norbert Herman officiating. Interment will follow in the Loma Alta Cemetery. Serving as pallbearers will be, Dan, Jose Raul, Rey, Jesse, and Jaime Salais. Honorary pallbearers will be, Jaime DeLaGarza, Jimmy DeLaGarza, Juan DeLaGarza and Robert Salais.