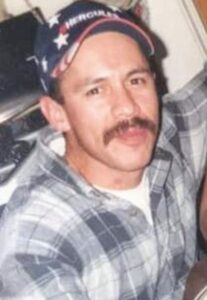 Christopher Lee Martinez, Age 50 of Kenedy, TX passed away on Wednesday, June 23, 2021 in San Antonio, TX surrounded by his loving family.  Christopher was born on January 19, 1971 in Karnes City, TX to Domingo Martinez, Jr. and Lydia Garza Cruz.  He was a cook for Barth's Restaurant, a loving father, grandfather, son, uncle, friend to many and a member of Calvary Family Praise Church.
Christopher is survived by his parents, Lydia & Ernest Cruz of Kenedy and Domingo Martinez, Jr. of Pearsall; sons, Christopher Martinez, Jr. of San Antonio, Jared Martinez of Kenedy, Patrick Martinez of West, TX; sisters, Samantha Moczygemba of Seguin, Nicole Rene Garcia of San Antonio, Dominique Martinez of Pearsall; brothers, Calistro "Kelly" Ray Martinez of Seguin, Justin Martinez of San Antonio, T.J. Gonzales of Corpus Christi, 1 granddaughter and a host of family and friends.
Family Visitation will be held Monday, June 28, 2021 from 6PM to 8PM with a Celebration of Life Service at 7PM in the Eckols Funeral Home Chapel. Inurnment will take place at a later date.