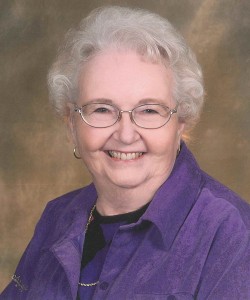 Elizabeth Henshall was born in Ft. Smith, AR to Rev. Ford and Defsie Gauntt.   As a preacher's kid, her family ministered in various Southern Baptist churches in Arkansas and Oklahoma. In 1947-1949 Liz attended Oklahoma Baptist University where she met and then married John on December 21, 1949.  They stayed in the Oklahoma City area until John finished his degree. Shortly after Jack was born in 1952, John and Elizabeth moved their small family to Kenedy so John could try his hand at farming.  John farmed while Elizabeth had babies. Jan, Jean, and Jim were born within the following 4 years. The drought in the 50s forced John to find work to support his family, so he commuted to Beeville daily to teach Math & Industrial Arts at A.C. Jones High School. The following year, John moved his family to Beeville. Joyce was born in 1958, and the Henshall clan was established.  Liz stayed extremely busy the next 30 years raising her family, finishing her college degree in education, teaching Special Education in both the public school and at church, and was involved in many other activities at church and in the community. She was very active in church music activities. She sang in the adult choir, accompanied choirs on the piano, and led music for children of all ages. She enjoyed making beautiful quilts and other crafts.  In the mid 80's John and Elizabeth retired from education and began building their retirement home back on the farm in Kenedy. They enjoyed over 20 years in peaceful retirement before John had to become Liz's primary care-giver. Elizabeth always had a smile on her face and a song on her lips. She leaves behind a great legacy—5 children, 8 grandchildren, and 5 great-granddaughters.
A memorial service will be held Sunday, April 27th at 2:00 PM at First Baptist Church in Kenedy, TX.  A time of visitation with the family will occur immediately following the memorial service in the Fellowship Hall.
In lieu of flowers, the family asks that memorials be made to South Texas Children's Home Ministries or to the Renovation Fund at First Baptist Church, Kenedy, TX.