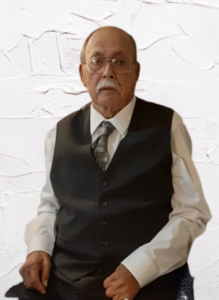 Robert R. Charles, Sr., Age 78 of Runge, TX passed away on July 20, 2021 in San Antonio, TX. Robert was born on August 12, 1942 in Runge, TX to the late Julio and Josephina Rodriguez Charles.  Robert was the Pastor of Church on the Rock in Pettus, TX, a loving husband, father, grandfather, brother and friend to many who will be greatly missed.  Robert is preceded in death by his parents, Julio and Josephina Rodriguez Charles; son, Rudy Charles; daughter Elena Charles; 3 sisters and 4 brothers.  Robert is survived by his loving wife Luzelida De Los Santos Charles of Runge; daughters, Donna Kay Rios of Runge; sons, Robert Lee Charles and wife Esther of Runge, Israel Charles and wife Sarah of Tuleta, Ricky Charles of Runge, Moses Charles and Wife Rebecca of Beeville; sister Lydia De Los Santos of Elmendorf numerous grandchildren and great-grandchildren and a host of family members.  A Prayer Service will be held Wednesday, July 28, 2021 at Heavenly Gates Family Worship Center at 7:00 PM.  Services will be Thursday, July 29, 2021 at 10:00 A.M. at Heavenly Gates Family Worship Center with the Rev. Robert Lee Charles officiating.  Interment will follow in the Runge Cemetery in Runge, TX.
Serving as Pallbearers: Israel Charles, Jr., Julian Patrick Charles, Bobby Lee Charles, Elijah Charles, Jesse Rios, and Aaron Charles.
Honorary Pallbearers: William Charles, Isaiah Charles, Noah Rios, Jordan Rios, and Jimmy Rios.