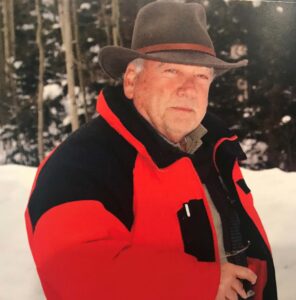 Joseph Albert (Joe) Hugenberg, Jr. received his angel wings on April 27th, 2021 at the age of 74.  He was born in Houston, Texas to Dorothea Terry Hugenberg and Joseph Albert Hugenberg, Sr. on May 15th, 1946.  He lived in Houston until he and his mother moved to Rockport, Texas when he was 10.  He loved everything about Rockport.  Upon graduation from Rockport High School, he attended and graduated with a BA degree from St. Mary's University in San Antonio.  While at St. Mary's he found the love of his life, Karen Kennedy.  They married on February 1st, 1969. Karen & Joe have counted 52 years together.  Together they lived in Rockport where they were blessed with their first son, Joseph Albert III (Trey) and a beautiful daughter, Hollie.  Joe owned his independent insurance agency, J. Hugenberg Insurance. He was an avid and ranked tennis player, great water skier, youngest President of the Rockport Chamber of Commerce and one of the founders of the Rockport Seafair Festival. He also started the Water Safety Patrol for the ski basin in Rockport.  Joe sold his agency and moved the family to Houston in 1977.  Joe was a part owner of the Houston Shoe Hospital. During those years, they were blessed with a second son, David Bryan (Buddy) in 1978. Years later he worked for Jones & Granger Law firm as a case signer representing the railroad workers. He coached all three of his children's baseball, and soccer teams. He also taught countless people how to water ski and claimed to have once skied behind a helicopter.  Joe was a loving and devoted Husband, Uncle, Father and Grandfather – G Daddy!!  To all of his friends, he was known as a special guy who had a big smile, having to have never met a stranger and so much love to share.  The life of the party!  Joe and Karen retired to Lake McQueeney which was one of their favorite vacation spots for over 20 years.  They built a home and made new friends. He was always the first on the lake… having his quiet reflective time with his dogs, Sugar and Pearl. He took so many beautiful pictures of the sun rising over Lake McQueeney. They traveled to Europe, Alaska, Mexico, Caymans, Turks & Caicos and many US destinations they had always wanted to visit. Always returning with new friends. His favorite were the family vacations together with his children and grandchildren whether it was in the sand or in the snow. He just loved when his family was together.  He was a true family man.  Joe is survived by his wife of 52 years, Karen.  His daughter Hollie and her husband Luke. His son Buddy and his wife Kristina.  His grandchildren are his treasures: Erin Elizabeth, (18 years), Katherine Kiley (15 years), Sophia Katherine (13 years) and Braden David (11 years).  He is preceded in death by his beloved son, Trey.  Also by his parents, Dorothea & Joe Sr. His mother-in-law Betty Gay Kennedy, and other loved ones who are all now together with our Savior.   As we pay tribute to a life well lived, we will never forget how much he loved family first, all his wonderful friends and the time he shared with each of them. He was loved and will be missed by many.
There will be a Rosary Service held at Eckols Funeral Home Sunday, May 2, 2021 at 11AM, 420 W. Live Oak Street, Kenedy, TX 78119.  His burial will immediately follow the service at The Butler Family Cemetery and lunch will provided afterwards at the family home in Kenedy.
On Joe's birthday, May 15th, the family will have a "Celebration of Life" gathering at their home in Lake McQueeney.
In lieu of flowers, please send a donation to Friends of Lake McQueeney in honor of Joe Hugenberg.  For information on FOLM, please visit www.lakemcqueeney.org
FOLM
P.O.Box 781
McQueeney, Texas 78123