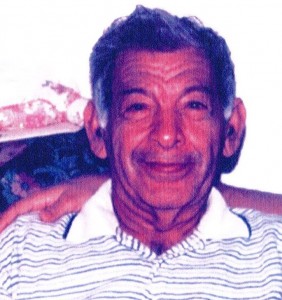 Librado "Leo" Garza, Age 85 of Kenedy, TX passed away on Sunday, November 13, 2016   in Kenedy, TX.  Leo was born on December 11, 1930 in Kenedy, TX to the late Exiquio and Eliza Garcia Garza. He married Viola Lopez on June 23, 1953 in Kenedy, TX who preceded him in death. On May 27, 1973, he married Evangelina Salinas in Kenedy, TX. He retired from the Kenedy Compress as a Cotton Gin Operator and was a devout member of Calvary Baptist Church in Karnes City, TX.
He is preceded in death by his first wife Viola Lopez Garza; parents, Exiquio and Eliza Garcia Garza; son Alberto Garza; sisters, Elva Lara, Lena Cano; brothers, George Garza, Exiquio Garza and a grandson Michael Damien Garza.
He is survived by his loving wife Evangelina Salinas Garza of Kenedy; daughters Elisa Salais and husband Jesse of Kenedy, Elsie Lopez and husband Johnny of Beeville, Estella Garza of Kenedy, Ellia Garza of Kenedy, Sharon Beard and husband Robert of Dyresburg, TN, Anna Lisa Garcia of Kenedy; sons Arturo Garza and wife Judy of Kenedy, Lee Anthony Garza and wife Lori of Kenedy, Christopher Scott Garza and wife Crystal of Oklahoma City, Oklahoma, David Garza of Runge; 33 grandchildren and 19 grandchildren.