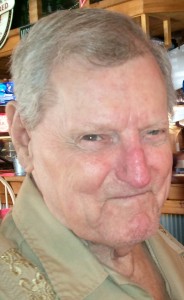 George Randall "Randy" McAlister, age 81 born Nov. 14, 1933 in Rogers, TX; married Jan. 19, 1961 in Grover, NC at Presbyterian Manse, passed away May 3, 2015 Pineville, North Carolina.  He was preceded in death by his father George W. McAlister and mother Edith Durnal McAlister.   He is survived by his daughters, Mary Lisa Starry of Lake George, CO; Susan Rice of Gastonia, NC; sister, Susan Clark of Longview, TX; brother, Tommy McAlister of Kenedy, TX; and grandchildren, Chase Starry, James Borrum, Jonathan Rice, Nathan Rice, and Hannah Rice. Randy was a graduate of San Marcos Military Academy and he attended Texas A&M College.  He was self-employed most of his life, managing the family ranch and antique shop. He was a carpenter and an electronic technician by trade, a Mason belonging to Masonic Lodge #200, enjoyed carving, painting, cooking, and rebuilding computers.
Family Visitation will be held Friday, May 8, 2015 from 6PM to 8PM in the Eckols Funeral Home Chapel.  Funeral Services will be Saturday, May 9, 2015 at 10AM in the Eckols Funeral Home Chapel with Rev. Ronnie Bowers and Rev. Chris Howell officiating.    Interment will follow in the Kenedy Cemetery in Kenedy, TX.
In Lieu of Flowers Memorial may be sent to the American Cancer Society.