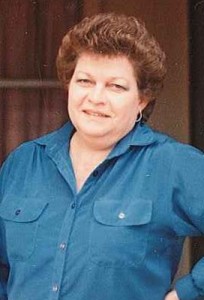 Patricia Ann Ahrens Kanak passed away, Thursday, March 28, 2013, at 2:32 A.M., in Victoria, Texas at the age of 74 years, 1 month and 28 days. She was born, January 31, 1939, in Alice, Texas. She is preceded in death by her parents, Erwin and Herminia (Minnie) Haisher Ahrens.
She is survived by her husband, Daniel Kanak of Victoria, Texas; her sons, Roger Herschap and wife Donna of Pleasanton, Texas and Gary Kanak and wife Stacey of Sandia, Texas. She is also survived by her granddaughters, Jessica and Hayley Herschap and Logan Kanak; her sister, Marie Lowry of Florida and numerous nieces and nephews.
Pat was a loving wife, mother and grandmother who enjoyed dancing, playing dominoes, being with her family and her many friends.
Visitation was held, Monday, April 1, 2013, from 10:30 A.M. – 12:00 Noon, in the Eckols Funeral Home Chapel. Funeral services began at 2:00 P.M., Monday, in the Eckols Chapel with Rev. Wally Schievelbein officiating. Interment followed in the Kenedy Cemetery, Kenedy, Texas.
The family suggests memorial contributions be sent to The Alexander Memorial Library; 201 Center Street, Cotulla, TX 78014.