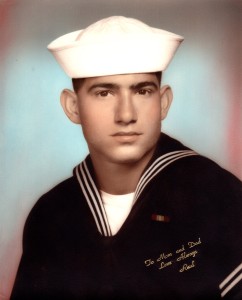 Raul Guerra DeLaGarza, Jr., Age 65 of Del Valle, TX formerly of Kenedy, TX passed away Friday, October 9, 2015 in Del Valle, TX. Raul was born on March 7, 1950 in Kenedy, TX to the late Raul, Sr. and Esperanza Guerra DeLaGarza. He was a Master Mason and worked for D&M Masonry before retiring, he served his country honorably in the US Navy during the Vietnam War, and was a member of San Barbara Catholic Church.
He is preceded in death by his parents Raul, Sr. and Espernanza Guerra DeLaGarza; sister Florinda Apolinar; brothers, Benjamin DeLaGarza and Robert Mack DeLaGarza.
He is survived by his loving wife Olivia Madrigal DeLaGarza of Del Valle; daughters, Irma DeLaGarza-Adnane and husband Abdellatif of Houston, Veronica Navarro and husband Jeffrey Alan of Austin, Christine Pack and Husband Demetrius Deshawn, Sr. of Austin; sisters, Judy Browning of Austin, Herminia Longoria of Austin; brother, Abel DeLaGarza of Kenedy and grandchildren, Ziryab Milud Adnane, Alan Bryce Navarro, Claire Janelle Navarro, Allison Eleanor Navarro, Dekel Deshawn Pack, Talia Renae Pack, and Demetrius Deshawn Pack, Jr. .
A Holy Rosary will be recited Wednesday, October 14, 2015 at 7PM in the Eckols Funeral Home Chapel. Funeral Mass will be celebrated Thursday, October 15, 2015 at 11AM at Our Lady Queen of Peace Catholic Church with the Rev. Norbert Hermann Officiating. Interment will follow in the Loma Alta Cemetery in Kenedy, TX.
Serving as Pallbearers will be Jeffrey Navarro, Abdellatif Adnane, Demetrius Deshawn Pack, Sr., David Wayne Browning, Bebe Sanchez, and Dan Messina
Honorary Pallbearers will be Alan Bryce Navarro, Dekel Deshawn Pack, Ziryab Milud Adnane, and Demetrius Deshawn Pack, Jr.