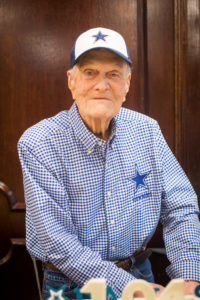 AC (Claud) Huff, a self-made man, if ever there was one. Founder and past owner of Huff Marine; Daddy knew outboard boats and motors like no other. Sold them, raced them, fished in them, fixed them! Even at 104, he still loved to talk boats with anyone who took the time. And if you took the time, you'd learn something! Today's engines aren't the ones Daddy mastered years ago, but with his sharp mind he kept up with how things were going at 'the shop' on a daily basis. He was a no nonsense guy with little use for small talk. Talk business or don't talk!
He was the Dallas Cowboys greatest fan. A time or two over the years, he even called the Cowboys headquarters to voice his concerns over how the last game was played. But regardless whether they won or lost, he was ready for the next game! He so enjoyed watching them win one last time!
Guess you can say Daddy was a pretty headstrong and determined person. He grew up in a time where a man had to have that kind of grit to survive. But he did more than survive, he lived a long successful life. He will be greatly missed.
Daddy was surrounded by his beloved family when he stepped into eternity, Monday, September 9, 2019. Our hearts are heavy but our spirits rejoice as he is reunited with his beloved wife, Jean, who preceded him in death March of 2007. He is also welcomed home by his son: Bill and grandson-in-law: Sam.
Daddy was born October 26, 1914 in Bee House, Texas. His early years were spent in Gateville,Texas. He served in the U.S. Navy. He is survived by his daughter: Brenda Nance and husband Ronnie Nance; granddaughter: Heather Painter and fiancé, Chad Marshall.
Daddy lived his last 3 years at Trinity Towers in his own apartment. He loved exercise class and talking to so many downstairs. Loved the staff always loving on him.
Thank you to Michelle, Arlene, Miram and Desiree for serving the best meals. Your kindness and love to go above and beyond for him. Thank you to Beth for always planning the best parties (Valentines Day King) for him. Thank you Dalia for making everything special-finding the perfect place for him to live. Thank you Ann and Reyna for your last care for him. And Tina, thank you for spoiling him and coming by.
Becky Arriaga-sister, just not enough words of appreciation to you for your perfect care you gave Daddy-love-tons of laughs-stories Oh My! Your calm personality and your ability to get him laughing. How you kept daddy so perfect. I wish he would be celebrating another birthday with you-you made his stay at Trinity the best. He love you. We love you and wish you a speedy recovery. Dr. William Curtis- thank you for your love and how you cared for Daddy. Your one in a million.
Daddy you were my challenge but we made it. I love you so much and so glad-now after 12 years, your are with mama. This is the period at the end of our sentence. He's our legend! Love and miss you Daddy!
Private Interment in the Sandia Cemetery, Sandia, TX.