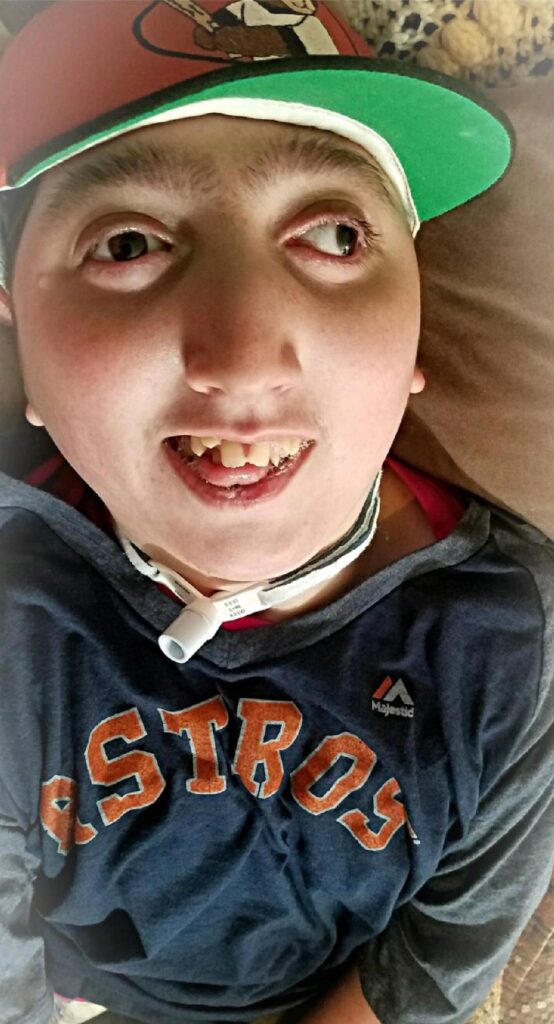 Travis Cole Grayson passed away peacefully on November 27, 2023 surrounded by his mom, brother and home health nurse Kristy.  He was born in Victoria, TX November 23, 1996 to Shelley Grayson.  Travis was a true miracle; he lived a life longer that was given.  Travis had a smile that would brighten up the room and was loved by so many. Travis was really loved by his beloved "Mom-Mom" who I know welcomed him with open arms and dancing and playing in heaven.  Travis is now healthy and whole and at peace.  He will be missed.
Travis is survived by his mom, Shelley Grayson of Beeville; brother, Logan Fregoso of Beeville; Step-Grandpa (Papa), Gene Donnell of Choate; Uncle, Shane Grayson and Wife Shannon of Choate; aunt, Susan Donnell of Kenedy, many cousins, great-aunts and great-uncles.
Travis is preceded in death by his "mom-mom" Donna Bagwell; grandpa, Robert Gary Grayson; great-grandparents, John and Faye Bagwell, Bob and Annie Fay Grayson; aunt, Stephanie Donnell and a cousin Casey Walker.
Visitation will be held Thursday, November 30, 2023 from 6PM to 8PM in the Eckols Funeral Home Chapel. Services will be Friday, December 1, 2023 at 11AM in the Eckols Funeral Home Chapel with Pastor Ricky Bagwell officiating. Interment will follow in the Choate Cemetery in Choate, TX.
Serving as Pallbearers: Shane Grayson, Christian Grayson, John Grayson, Garett Grayson, Adam Reyes and Clinton Bagwell.
In Lieu of flowers donations may be made to the Driscoll Children's Hospital, 3533 S. Alameda St., Corpus Christi, TX 78411.
We the Family would like to thank his home health nurses through the years that have worked and helped take care of Travis.  We would also like to thank Restorative Home Health for their service.  The nurses who worked with him will always have a special place in our hearts and will always be FAMILY.  Thank you to everyone