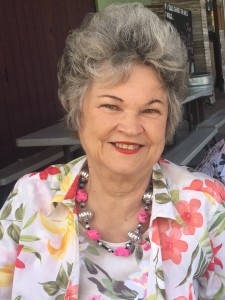 Charlene Angermiller-Stewart, Age 76 of Windcrest, TX formerly of Kenedy, TX passed away on Thursday, September 28, 2017 at home surrounded by her loving family. Charlene was born on January 14, 1941 in Sinton, TX to the late Fred and Mary (McComick) Angermiller.  She retired as a building manager for Pyramid Properties, was a member of Windcrest Methodist Church.  Growing up in Kenedy then cheerleading and graduating at Kenedy High, Class of 1958, she made many close friends and lifelong relationships.  She will be fondly remembered, as a loving Sister, Mother, Grandmother, Great-Grandmother, Aunt and dear friend to many.
She is preceded in death by her parents Fred and Mary Angermiller; daughter, Karen Elizabeth Wedge; sister, Louise Green; brother LeRoy Angermiller and brother-in-law Carl Tolar.
She is survived by her son, Levi Brown and wife Joy of Cedar Creek; daughter, Sharon Larson of San Antonio; grandchildren, Jeffery Humphries and Krystal Humphries; great-granddaughter, Kyra Humphries all of San Antonio; sisters, Jean and husband Dalton Hartmann of Runge, Freda Tolar of Deer Park; sister-in-law Dee Angermiller of Baytown; brother-in-law Walter Green of Kenedy, and numerous nieces and nephews.
Visitation will be held on Sunday, October 1, 2017 at 2PM to 3PM in the Eckols Funeral Chapel with Funeral Services at 3PM in the Eckols Funeral Home Chapel with Rev. Joan Ahrens officiating. Interment will follow in the Pawnee Cemetery in Pawnee, TX.