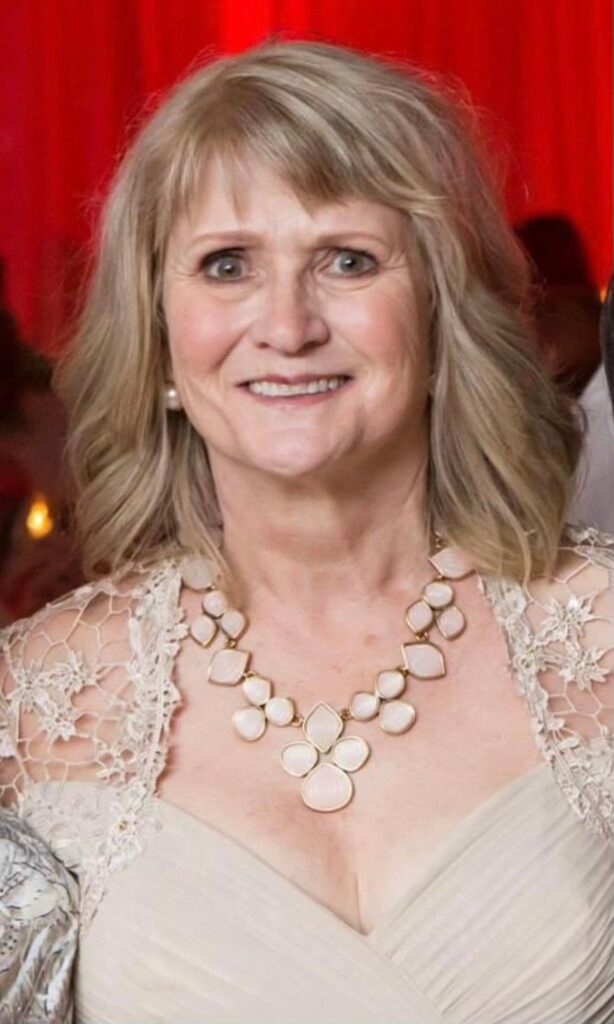 Jan Ada Jimerson Lake, age 73, of Hobson passed away Thursday, August 31, 2023 with her family by her side. Jan was born on May 30, 1950 in Beeville Texas to the late Richard Wiley Jimerson and Delsie Baker Jimerson. Jan will be remembered as a loving and devoted wife, mother, grandmother, for her kind heart, her infectious laugh, beautiful smile and as a strong woman of faith with a deep love and trust in the Lord; she was a member of the First Baptist Church Kenedy.
Jan is preceded in death by her parents, her beloved husband Carrol, son Clayton; her sister and brother-in-law Jeannie & Robert Best, and brother-in-law Helmuth Schueneman.
Jan was a 1968 graduate of Pettus High School. She married the love of her life Carrol Wayne Lake on December 6, 1969, at the First Baptist Church Kenedy and they were blessed with two sons Clayton Wayne & Christopher Wade.
Over the years, Jan worked as a teller for Karnes County National Bank, she owned her own children's boutique "Sugar & Spice". Jan was the secretary and Vice President of C.W. Lake & Associates, LTD and Jan & Carrol's strong partnership and work ethic allowed their son Chris & his wife Angela to join the company as well.
Jan retired in July of 2010 and she shifted her focus to her grandchildren. She loved spending time with them at her second home in Rockport; they were constantly doted on-Carrol would fuss; Jan would cuddle and make it all better. There were swimming lessons, golf lessons, trips to the beach, out on the boat, water balloon fights, ice cream, whatever the grandbabies wanted. Jan enjoyed her early morning coffee watching the sun rise, her evening glass of champagne; reading books, hanging out on the deck when her friends and neighbors stopped by, brunching at the Yacht Club, and shopping on Main Street.
Even more so, Jan enjoyed and taught the art of decorating, event/party planning, shopping, traveling, and just being "girls" to her precious Angela and later Kalin. They had an incredible bond; Angela was so much more to Jan than just her daughter-in-law; they were best friends. They laughed, they cried, and they shared so many cherished memories together. Jan praised Chris for the amazing man, husband and father he had become and she loved and adored Angela deeply for being his rock.
Jan was always front & center at anything to do with Falls City ISD, Beaver Nation and the Floresville Wildcats. Jan's grandchildren are her pride & joy; they have filled her years with unconditional love, laughter & pride. She didn't miss an athletic game, a marching contest, or school program, she was always cheering from the stands, just beaming and always ready for the "after the game photos".
But one of her favorite memories which she loved to relive year after year with Chris and his high school buddies: Football Season of 1994-Chris' junior class was set to play Pettus, the team would gather at their house on Thursday evenings, Carrol would strategize with the boys; Jan would cook for them, but she loved to rile the boys up; being a true Pettus Eagle alumni; she would sing the Pettus Fight Song to Chris' friends and teammates. FC was predicted to win handily that year but Jan would just smile and say "you're too confident" and reminded them "Every Eagle Has Its Day". Pettus ended their season 1-9, their one win was against FALLS CITY.
Jan was a strong woman of faith and a deep love of God-member of the First Baptist Church Kenedy. She was by Carrol's side over the years with fundraising for the Falls City ISD, Kenedy ISD, Karnes City Chamber of Commerce, Kenedy Chamber of Commerce, Karnes County Toys for Tots, Kenedy VFD, served on numerous boards and committees including Karnes County Youth Livestock Show, Falls City Education Foundation, the Polish Invitational Fishing Tournament-Rockport, Falls City Band Boosters, Falls City Youth League, and Falls City All-Sports Booster Club.
Jan is survived by her son Chris (Angela) Lake of Falls City, TX and Jan was blessed with four grandchildren, her granddaughter: Kalin Lake Pawelek (Ryan); grandsons Tristan Sittler, Brady Lake, and Braxton Lake. She is survived by her brothers: Tommy J (Linda) Jimerson of Choate TX, Jerry (Julie) Jimerson of Arlington Tx, and sister JoEllen Jimerson Scheunemann of Kenedy TX; sister-in-law Cindy (Kenny) Rose of New Braunfels, TX; brothers-in-law: Clay (Martha) Lake of San Antonio, TX and Gene (Becky) Lake of Seguin, TX; and her nieces, nephews, and special life-long friends.
Serving as Pallbearers will be Brady Lake, Braxton Lake, Tristan Sittler, Ryan Pawelek, Alan Pawelek, Rick Jimerson, Jay Jimerson and Craig Schueneman.
Family Gathering & Visitation will begin at 10:00 AM Tuesday September 5, 2023, at Eckols Funeral Chapel in Kenedy, Texas.
Funeral Services will follow at 11:00 AM with Rev. Matt Singleton officiating.
Interment to follow in the Choate Cemetery with reception immediately afterwards in the Fellowship Hall.
Memorials may be made to the Choate Baptist Church or Choate Cemetery Association, 181 PVT RD 8200, Kenedy, TX 78119.