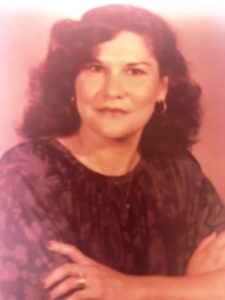 Angelita "Angie " Yanes Martinez, Age 75 of Kenedy, TX passed away on February 22, 2019 in Kenedy, TX. Angie was born on September 27, 1943 in Kenedy to the late Leopoldo and Demeteria D. Yanes.  She was a local business owner operator in Kenedy; a loving sister, aunt, friend to many and a member of Our Lady Queen of Peace Catholic Church.
She is preceded death by her husband, Jesse B. Martinez; parents, Leopoldo and Demetria D. Yanes; sisters, Adela Martinez Salinas, Lupe Rico infant brothers and sisters, Oscar, Chris, Ninfa, and Elsa.
She is survived by her sisters, Ester (Frank) Salas of Lubbock, Elena (Robert) Llanas of Boling, Diana Martinez of Kenedy; brothers, Alex Garza, III of Kenedy, Steven (Mary) Martinez of Kenedy, and numerous nieces, nephews and a host of friends.
A Holy Rosary will be recited Thursday, Feb. 28, 2019 at 7PM in the Eckols Chapel. Funeral Mass will be celebrated Friday, March 1, 2019 at 11:00 A.M.  Interment will follow in the Karnes City Latin Cemetery.
Pallbearers will be Steven G. Martinez, Jr., Daniel Salinas, Alex Salinas, Bobby Llanas, Frank Salas.