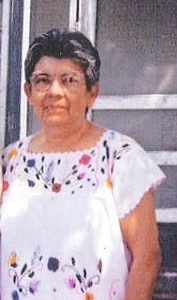 Maria Rodriguez Aguirre, age 85 of Rosenberg, TX formerly of Pettus, TX passed away on Saturday, June 21, 2014 in Sugarland, TX.  She was born on June 20, 1929 to the late Luis and Santos (Lopez) Rodriguez in Kingsville, TX.  She was a homemaker and a faithful member of Sacred Heart Catholic Church in Pettus, TX.  On October 20, 1948 she married Esiquio V. Aguirre in Karnes City, TX who preceded her in death.
She is preceded in death by her husband Esiquio V. Aguiire, Sr. parents Luis and Santos Lopez Rodriguez, son Esiquio R. Aguirre, Jr.,  daughter Santos Aguirre, sister Aurora Ortiz and brother Ernesto Aguirre.
She is survived by her daughter Mary Madrigal and husband Lupe of Rosenberg, TX grandchildren, Ricardo Aguirre of Pettus, TX, Gloria Ramirez and husband Phillip, Mario Madrigal and wife Jay, Ana Madrigal and Kirsten Martin, all of Rosenburg, TX, Sylvia Madrigal and husband Robert Escamilla of Katy, TX and two great grandchildren Isabella Ramirez and Lauren Aguirre.
A Rosary was recited Monday, June 23, 2014 at 7pm in the Eckols Funeral Home Chapel.  Funeral Mass was held Tuesday, June 24, 2014 at 10am at the Sacred Heart Catholic Church in Pettus, TX with the Rev. Luke officiating.  Interment was held at the Pettus Cemetery in Pettus, TX.
Pallbearers were Mario Madrigal, Phillip Ramirez, Robert Escamilla, Victor Gonzales, Jacinto Aguirre and Fred Rodriguez