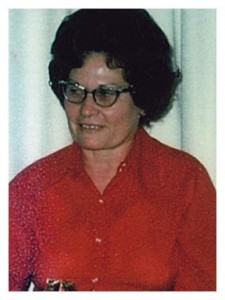 Kenneth Cleone Wishert Sanders, went to be with the Lord at the Grove Nursing Center, Grove Oklahoma, after a long battle with Alzheimer's.
In 2003, Kenneth moved to Fairland, Oklahoma to live with her daughter Carole and husband Troy. Kenny was born April 12, 1919, to the loving arms of her parents, Devasco and Dovie Wishert in Karnes County, Texas. Kenny was of the Baptist faith and loved the Lord.
After a meeting at the community barn dance, Kenny met and married Norman Leon Sanders, their entire married life was spent in Texas; of that union came four children. Kenny's greatest love was her family and spending time with them, she enjoyed gardening, music, and homemaking. Kenny was preceded in death by her parents, husband Norman, a second husband Archie Rogers, brothers Clyde and Pete, a beloved son Roger, granddaughter Pam and grandson Roger Dale Jr.
Survivors include her son, Norman Sanders and wife Billie of Frisco, Texas; her daughters, Carole Selsor and husband Troy of Fairland, Oklahoma and Roxay Sanders of Crowley, Texas. Kenny is leaving a legacy of ten grandchildren, sixteen great-grandchildren and five great-great grandchildren along with hoards of family and friends.
A simple service was held at, The Assembly of God Church in Fairland, Oklahoma, officiated by Rev. Jackie Crafton,  June 5, 2012, from 6:00 to 8:00 P.M. She was then taken to be laid to rest at Karnes City Cemetery in Karnes City, Texas, June 7, 2012 at 2:00 P.M.
Kenneth's family would like to extend thanks to her care givers of the Grove Nursing Center, Dr. Chouteau, Karen and staff, Good Shepard Hospice as well as all her friends that caller on her and the family. In lieu of flowers donations may be made to the Alzheimer's Association, P.O. Box 96011, Washington, DC 20090.