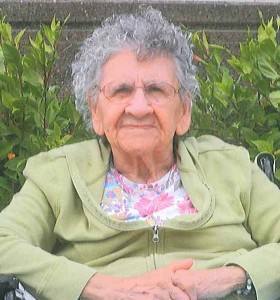 Maria Elva Villarreal Gonzales of Coy City, Texas, passed
away on Thursday, March 29, 2012 in the Karnes City Health and Rehab Center at 6:30 P.M., at the age of 94 years, 3 months and 5 days.
She was born December 24, 1917 in Elsa, Texas, the
daughter of Pedro Villarreal and Elvira Velasquez Villarreal. She was a
homemaker and attended St. Cornelius Catholic Church in Karnes City.
She is survived by her daughters, Elvira Cruz and husband
Joe, Elena Rocha and husband Lupe and Santos Rodriguez; her sons, Pedro
Gonzales, Sr., and wife Mary, Carlos Gonzales and wife Lynette, Rosendo
Gonzales and Gregorio Gonzales and wife Sulema; 43 grandchildren; 90
great-grandchildren; and1 great-great-grandchildren.
She is preceded in death by her parents; husband, Gregorio G. Gonzales; her 2
daughters; 2 sons; 2 sisters; and 3 brothers.
A rosary was recited at 7:00 P.M., Sunday, April 1, 2012 at Eckols Funeral Home Chapel. Funeral mass was celebrated 10 A.M., Monday, April 2, 2012 at St. Cornelius Catholic Church in Karnes City with Rev. Stanislaw Marciniak officiating. Burial followed in the Nell Cemetery, near Pawnee, Texas. Serving as pallbearers were, Gregorio Gonzales, III, Rolando Reyna, Tyler Flores, Dolores Rodriguez, Jr., Benny Gonzales, Jr., Billy Rocha, Sammy Gonzales and Daniel Ray Gonzales. Serving as Honorary Pallbearers were Joe Cruz, Jr., Lupe Rocha, Jr., Manuel Rocha, Amado Cruz and Arturo Cruz.