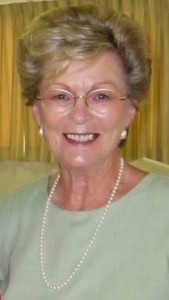 Mary Ann (Johnson) Kolodziej passed away on Monday, December 26, 2016 in Live Oak Nursing Center after suffering with Alzheimer's since 2010. Mary Ann was born June 12, 1940 at Kenedy Hospital in Kenedy, Texas to Charles Edward Johnson and Annie Mary (Schroller) Johnson. She married Wilbert Lee "Caliche" Kolodziej on June 13, 1959 in Pawnee, Texas. After graduation from Pawnee High School in 1958, Mary Ann started out as a housewife following her husband and his job all over South Texas, which included the towns of Falfurrias, Beeville, Robstown, and Alice. On December 21, 1960, while living in Beeville, they welcomed their first child, Calvin Michael. Shortly after his birth, they were relocated to Robstown, and on July 31, 1962 they welcomed Cynthia Michelle, who completed their family. Once both children were in school, Mary Ann went to work for Walter F. Hartman, MD and continued to work for him over the next 17 years. After being relocated to Alice, Mary Ann worked for Dodson's Jewelers. In 1991, after Wilbert retired from Halliburton, they moved to Sinton where Mary Ann worked for Eleanor's Boutique, Beall's, and then finally decided to try substitute teaching, which she enjoyed until her retirement due to Alzheimer's. In April of 2010, Wilbert and Mary Ann fully retired to Tuleta, Texas.  Mary Ann and Wilbert's favorite pastime was to go dancing. They, along with their children, spent many nights at the Robstown Community Hall and surrounding dancehalls in South Texas, with Mary Ann and Wilbert dancing while Michael and Michelle were asleep on pallets underneath a table. Their favorite band was the Pavelka's Orchestra.  Mary Ann was a nurturer and a spoiler. She loved to take care of her family, which included waiting on them hand and foot. Known as MeeMaw to her grandkids and as GiGi to her great grandkids, she loved spoiling them, it was just what she did and it made her happy.  Mary Ann is preceded in death by her husband, Wilbert, her parents- Edward and Annie Johnson, her brother, Charles, and her father-in-law and mother-in-law, Leon and Meta Kolodziej. Left behind to cherish her memory are her two brothers- Norman Ray (Marcella) Johnson and Gary (Betty) Johnson, sister-in-law and brother-in-law, Lynette and Clem Jarzombek, sister-in-laws- Kay Francis Eldridge and LaAnna Johnson, numerous nieces and nephews, children- Michael (Kim) Kolodziej of Sinton, and Michelle (Danny) Morris of Tuleta; grandchildren- Jenifer Lyn (Chris), Ashley Nicole, Lindsey Renee (Richard), Reagan Beth, William "Will" Tyler, Taylor Marie, and Brandon Kyle (Carina); and great grandchildren- Brooke Avery, Carter Ryan, Landon Michael Lee, and one due in June 2017.  The family of Mary Ann (Johnson) Kolodziej wishes to thank all of you for your prayers, love, and support through this difficult time. May God bless you all!  Memorial gifts honoring Mary Ann may be given in the Memory of Mary Ann Kolodziej to the Alzheimer's Research Foundation. Visitation will be held Thursday, December 29, 2016 form 10AM to 11AM at Good Shepherd Lutheran Church.  Services will begin at 11AM at Good Shepherd Lutheran Church.  Interment will follow in the Pawnee Cemetery, Pawnee, TX.
Pallbearers: Jason Eldridge, Lance Johnson, Chris Johnson, Will Kolodziej, Jeffrey Johnson and Brandon Morris.
The ladies of Good Shepherd Lutheran Church will have a luncheon prepared following the graveside service at Good Shepherd Lutheran Church Fellowship Hall in Kenedy, Texas for those that are able to attend.