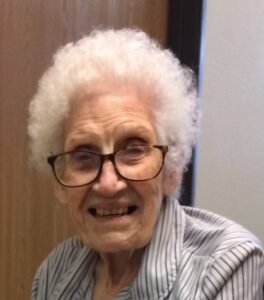 Norma G. Zamzow of Kenedy, TX was born on September 29, 1921 to Oscar Gross and Melitta Regner of Arneckeville, Texas. She moved to Fashing, TX when she was 12. She went to be with the Lord on Saturday, January 30, 2021 at the age of 99 years, 4 months, and 1 day. Mrs. Zamzow  is preceded in death by her husband: Emil H. Zamzow.
Norma was also preceded in death by her siblings (Robert, Rosie, Erwin, Alton, Elliot and Herbert), and lived the longest of all of them. Counting the time in the womb, she actually did make it to  100 this year.
Though she and Emil did not have any children, they had numerous nieces and nephews and friends that held a special place in their lives. She and "Boots" (Emil) were baptismal sponsors for twelve family members and friends. Raising children to know the LORD was very important to them.
Norma grew up picking cotton on a farm, and lived as  a farmer's wife after marriage. She was an expert seamstress, and did beautiful embroidery and crochet in the evenings to relax after a full day of tending the farm. She made many jars of peach jelly to go on homemade bread over the years. In a phone conversation in May of 2020, she said "I did what I loved to do."  Yes, she did. At Bluebonnet Nursing home, she remained active, even in her wheelchair. She daily roamed the halls, a sweet memory for the employees there.  She will be dearly missed, but is now with her Savior Jesus Christ, and with others who have also trusted in Him.
She leaves behind her hard work ethic, her frugality and example of not wasting anything, her generosity around her dinner table, and a strong, but simple faith. She was dearly loved by many.
Norma will have a Graveside service at New Bremen Cemetery  on Saturday, February 6, at 2p.m, with viewing beginning at 1 pm at the gravesite.
In lieu of flowers, a memorial gift may be given to St. Paul's Lutheran Church, where she and Boots served the Lord for many years.