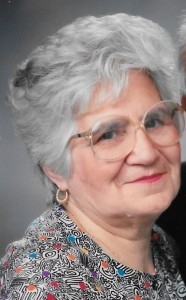 Maria "Cora" Puente Elizondo, Age 87 of Kenedy, TX passed away Tuesday, October 18, 2016 in San Antonio, TX. Maria was born on March 10, 1929 in Kenedy, TX to the late Arnulfo and Saragosa Vasquez Puente.   She was a loving mother, grandmother, great-grandmother a homemaker and a member of Our Lady Queen of Peace Catholic Church.
She is preceded in death by her husband Dolorez Elizondo; parents, Arnulfo and Saragosa Puente; brothers, Martin Puente, Lupe Puente, Valentin Puente, Alfonso Puente and Big John Puente.
She is survived by her daughters Lupe Guerrero and husband Tito of San Antonio, TX, Julia Sanchez of San Antonio, TX; son, Kelly Elizondo and wife Ofelia of Austin, TX; sisters, Tila Solis of Kenedy, TX, Fannie Lopez of Edinburg, TX; brother, Gilbert Puente of Kenedy, TX; granddaughters, Amaris Guerrero of San Antonio, TX, Merida Elizondo of Austin, TX and great-grandson Tristan Dorado of San Antonio, TX.
A Holy Rosary will be recited on Thursday, October 20, 2016 at 7PM in the Eckols Funeral Home Chapel. Funeral Mass will be held on Friday, October 21, 2016 at 11AM at Our Lady Queen of Peace Catholic Church with the Rev. Norbert Hermann officiating.  Interment will follow in the Loma Alta Cemetery.
Serving as Pallbearers will be Martin Puente, Jr., Michael Solis, David Puente, Johnny Puente, Ricky Puente, and Rene Solis.