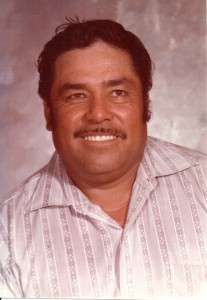 Justo R. Salas, a lifelong resident of Pawnee, Texas, passed away, Sunday, September 29, 2013 in the Otto Kaiser Memorial Hospital Kenedy, Texas at the age of 81 years, 2 months and 10 days. Justo was born, July 9, 1932 in Nell, Texas the son of Vicente Salas and Juanita Rodriguez Salas. On April 15, 1956, Justo married Elida Gonzales in Three Rivers, Texas.
He is survived by his daughter, Carolina Yzaguirre husband Heraclio; his 2 grandchildren, Veronica and Heraclio, Jr.; his brothers, Julian Salas and wife Carmen, Vicente Salas and wife Louisa, Chico Luna and Juan Salas and wife Christina and his sisters, Licha Gonzales and husband Raul and Gloria Contreras and husband Jose. Mr. Salas is preceded in death by his parents; his wife; his sons, Juan Carlos and Jose Carlos and his siblings, Eulalio R. Salas, Jesusa S. Cuellar, Ruben R. Salas, Damas Velasquez and Nate Luna.
Visitation will be held, Tuesday, October 1, 2013 in the Eckols Funeral Home Chapel with a rosary to be recited at 7 PM, Tuesday in the chapel. Funeral mass will be celebrated, 10:30 AM, Wednesday, October 2, 2013 at Our Lady Queen of Peace Catholic Church, Kenedy. Interment will follow in the Nell Cemetery.