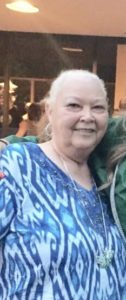 Bobbie Joane Garcia, Age 62 of Karnes City, TX passed away Thursday, July 26, 2018 in Karnes City, TX. She was born on April 25, 1956 to the late Robert William Adcock and Barbara Schuster Sells in Floresville, TX.  She was a homemaker, loving wife, mother, grandmother, great-grandmother, and friend to many.
She is preceded in death by her father, Robert William Adcock; and parents, Sunny and Barbara Schuster Sells.
She is survived by her husband, Martin Garcia of Karnes City; son, Casey (Dawn) Schuster of Pleasanton; step-daughters, Veronica Garcia of Karnes City, Leticia Garcia of Seguin, Vanessa Garcia of Kenedy, brother Oscar Sells of TX; grandchildren, Travis Schuster, Taylor Schuster, Brandon Schuster, Julissa Garcia, Brittney Garza, Victor Garza, and Haylynn Garza and great-grandson Jordan Schuster.
A Memorial Service will be held Friday, August 3, 2018 at 6PM in the Eckols Funeral Home Chapel, Kenedy,TX. Inurnment will take place at a later date.