J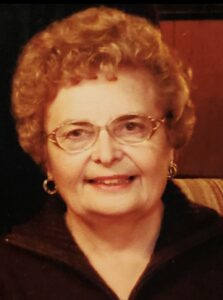 oyce Elaine Fransen, age 80 of Kenedy, Texas, passed away in her home on Thursday May 27, 2021. Joyce was born on September 28, 1940 to Edwin and Agnes Haner in Lenz, Texas.  She attended school in Karnes City and graduated from Karnes City High School in 1958 and was a member of Good Shepherd Lutheran Church.  Joyce married her sweetheart, John H. Fransen on June 20, 1959 at St. Matthews Lutheran Church in Kenedy and would have celebrated their 62nd wedding anniversary later this month. They lived in California and Washington while John was in the Army. After returning to Texas, Joyce joined her husband in his farming and  ranching operation and raising their children. They also owned and operated U-Phill Drive In in Kenedy. Joyce enjoyed all the people she met while in business and continued to work as a merchandiser for area grocery stores. Joyce loved music, especially country and polka music. Wurstfest in New Braunfels was a yearly trip as long as health permitted Also watching football, especially the Dallas Cowboys no matter if they won or lost.  She loved playing dominos, and board games. She only wanted the best for you.  She was a loving daughter, wife, mother, sister-in-law, mother-in-law, aunt and friend. She will be greatly missed.  Joyce is preceded in death by her parents, sister-in-laws, Ruth J. Jones, Freda Grisham, Ann Fransen, brother-in-law Eric Fransen. She is survived by her husband John Fransen, daughter Sharon (Gary) Wegner of Kenedy, sons Kevin Fransen of Kenedy and Keith (LeeAnn) Fransen of Karnes City, Grandson Jonathan (Becky) Fransen of Kenedy, sister-in-law Linda Fransen of Sweden.  Numerous cousins, nieces and nephews.  The family would like to thank Texas Home Health Hospice Nurses/Staff for their care and support given to our mother and family. Also, to Dr. Dan Dugi, Dr. Joel Saldana, Dr. Nancy Burt and the Otto Kaiser Memorial Hospital/Staff for the years of care they provided. Our family is eternally grateful to our mother's caregivers, Grace Martinez, Hope Longoria, Mary Lou Martinez and Sandy Salinas for their support and love.  Visitation will be on Tuesday June 1st from 5:00 p.m. to 7:00 p.m. at Eckols Funeral Home in Kenedy. The Funeral service will be Wednesday June 2 at 10:00 a.m. at Eckols Funeral Home Chapel. Burial will follow at New Breman Cemetery in Lenz, Texas.
Serving as Pallbearers are Kevin Fransen, Keith Fransen, Jonathan Fransen, Eric Fransen, Jr., Kirby Fransen, Dustin Lambden, Henry Janssen, and Gary Wegner.
Memorials may be made to Alzheimer's Association, Good Shepherd Lutheran Church in Kenedy or to the organization of their choice.