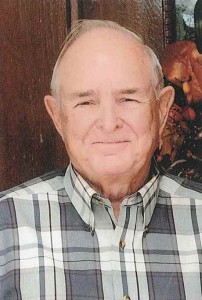 Paul K. May, Sr., a lifelong resident of Kenedy, Texas entered eternal rest, surrounded by his family in his home, Wednesday, October 30, 2013 at 12:20 P. M., at the age of 84.
Paul was born and raised in Kenedy, Texas, November 27, 1928 the son of J.A. May, Sr., and Alice Kauffman May. Paul enjoyed his life in Kenedy and on February 12, 1949 married, Mary Alice May. Paul worked as a dairy man for many years and he and his wife Mary Alice took great pride in owning their family restaurant, Barth's in Kenedy. Paul was a member of the Karnes County Country Club and enjoyed playing golf and even more so, enjoyed attending and supporting all of his grandchildren's activities. He was an avid Aggie fan and could be found rooting for the team any given Saturday during football season. Paul also enjoyed going to Barth's for meals and seeing old friends and keeping the staff "in line".
Paul is survived by his beloved wife of over 64 years, Mary Alice May of Kenedy and his children, Sharon Rinehart and husband Mike of Red Rock, Paul K. May, Jr., and wife Patty of Austin, Candace May of Kenedy, Lyndale Gray and husband Farrell of Roanoke, Carol Liberty and husband Gerry of Magnolia, Arkansas, Elizabeth Miller and husband Dave of Atlanta, Georgia, Melanie Ferguson and husband Tim of Kenedy and James May of Kenedy. Paul is also survived by his beloved grandchildren, Leslie May, Meredith Fishering, Matt May, Kelsie Gray, Austin Gray, Haley Gray, Elizabeth Liberty, Steven Liberty, Colby May, Sheldon May, Kalli Ferguson and Mackenzi Ferguson. Heis also survived by Beverly May, numerous nieces and nephews and his cousin, Mrs. Nancy Kauffmann Avant. Mr. May is preceded in death by his parents, J.A., Sr., and Alice May; his brother, J.A. May Jr., and his sister, Alice Elise.
Visitation will be held from 6:00-8:00 P.M., Friday, November 1, 2013 in the Eckols Funeral Home Chapel, Kenedy Texas. Funeral services will begin at 2:00 P.M., Saturday, November 2, 2013 in the funeral home chapel with interment following in the Kenedy Cemetery. Serving as pallbearers will be, Mike Rinehart, Farrell Gray, Gerry Liberty, Dave Miller, Tim Ferguson, John Foster, Colby May, Sheldon May, Austin Gray, Matt May, Steven Liberty, Ty Neal, Reid Fishering and Lance Byars. Serving as honorary pallbearers will be, Frank Knocke, Roger Overby, Bob Dietz, Amos Harden, Eddie Ruhmann, Tom Slaughter and Jimmy Holland.
The May family would like to extend our heartfelt thanks to our staff at Barth's. Their friendship and dedication is greatly appreciated. We would also like to extend many thanks to Nurses In Touch of Kenedy. Annette, Kelly, Kathy and the rest of the staff who were so considerate and thoughtful in the care of Paul.
In lieu of flowers, the family suggests that memorials be made to, Nurses In Touch Hospice, Inc.; 491 N Sunset Strip, St # 106, Kenedy, Texas 78119.