Edna Lee Brandt Gorbet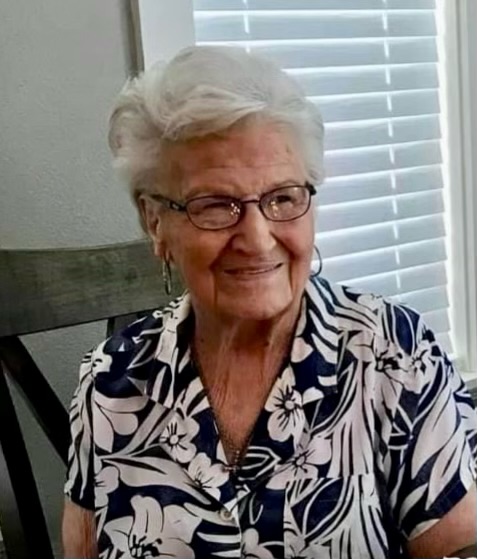 October 16, 1922 –  September 11, 2022
The youngest of 16 children, Edna was born on October 16, 1922 to John and Johanna Brand and went to her heavenly home on September 11, 2022 at the age of 99 just thirty-five days shy of her 100th birthday.
Edna is preceded in death by her husband, Daniel "Son" Gorbet, son, Randy Gorbet, Sr., and grandson, Randy Gorbet, Jr
She married the late Daniel "Son" Gorbet and lived in Robstown, TX for 24 years before moving to Kenedy in 1973 after Son's retirement. . Edna is survived by her children, Danny (Mary Francis) Gorbet of Greenwood, FL, Nancy (Larry) Schlottman of Montgomery, TX, Dena (Charles) Jetter of Centerville, TX, and Freddie (Sherry) Gorbet of Bishop, TX; 8 grandchildren; 11 great-grandchildren; and 2 great-great grandchildren; and numerous nieces, nephews, and cousins.
Anyone who knew Edna knew she was a Godly woman who loved her Savior and God's word. Enda was a long-time member of Good Shepherd Lutheran Church. She could always be found at church to take care of what needed to be done and provide the desserts for every occasion. She was a loving and caring woman always giving her time to her children, grandchildren, extended family, and others. She always looked forward to family gatherings and made sure everyone was taken care of before she would sit down to eat. She was so proud of her family. Edna will be missed immensely.
Funeral service will be at Good Shepherd Lutheran Church in Kenedy, TX on Friday, September 16, 2022, at 11:00 am. A visitation will be held before the service will begin at 9:30 am. Interment will follow in Orange Grove, TX. Those who wish, may make contributions to Good Shepherd Lutheran Church in Kenedy, TX or to the charity of your choice.