Jordan Lafayette Tucker-Foley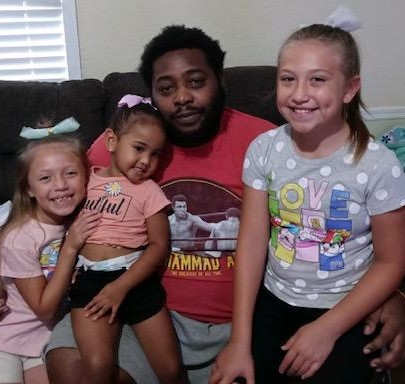 Jordan Lafayette Tucker-Foley, age 36, of Karnes City, TX, passed away Sunday, September 11, 2022. He was born to Anna Foley and James Roy Tucker on September 3, 1986.
Jordan attended Karnes City High School. He was a graduate of Karnes City High School where he excelled in basketball. After high school, he attended Coastal Bend College. Jordan was a member of the Prospect Missionary Baptist Church.
Jordan is preceded in death by his maternal and paternal grandparents and many special family members.
Jordan is survived by his spouse of 5 years, Kat Salas; daughters Kobie, Amorette and Alivia; mother Anna Foley of Karnes City and father, James Roy Tucker; brother Jason Foley, Sr. (Maria); his nieces and nephews Rhianna, Jason (Baby J), JaRhian, Sydney, Brittney and Gage; brothers Vincent Cross, James Franklin, James Henry, James Campbell and Terrance; sisters Tamara, Brooke, Natalie, Oshyra, Jacara, Icyss and Tameria; and numerous nieces and nephews, maternal cousins and his special little friend, Graham and four legged brother Crixus.
When Jordan entered the room be brightened it with that big. beautiful smile, personality and big voice. He was very protective of everyone and everything he loved. His favorite past times were his group chat with the boys, his Denver Broncos, LA Lakers (Kobe), spending time with his family, cooking and playing Fortnite. Jordan will be greatly missed by many. He has touched so many hearts.
Visitation will be Saturday, September 24, 2022 from 11am to 2pm in the Eckols Funeral Home Chapel with Homegoing Services to begin at 2pm in the Eckols Funeral Home with Pastor Black officiating. Inurnment will take place at a later date.