Eva Alaniz Gonzales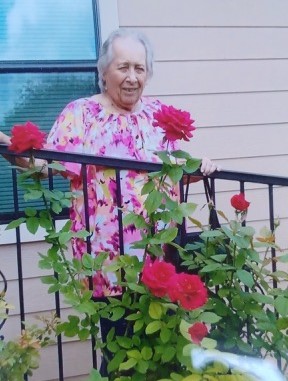 Eva Alaniz Gonzales, age 86, of Kenedy, TX, passed away on Wednesday, September 14, 2022, in Karnes City, TX. She was born on March 8, 1936 to Trinidad Perez and Enemencia Alaniz in Kenedy, TX. She is preceded in death by her parents and son, Pedro Gonzales, Jr. and sisters and brothers. She is survived by her children Eva Hinojosa, Tommy (Terri) Gonzales, Elias (Maria) Rosales, Merced (Yvonne) Rosales, Rene (Corina Santos) Rosales, MaryAnn (BeBe) Sanchez, Richard (Helen Hernandez) Rosales; a sister Maggie (Pepe) Torres; and numerous grandchildren, great grandchildren, and great-great grandchildren.
Visitation will be held Tuesday, September 20, 2022 from 10am to 11am with services beginning at 11am in the Eckols Funeral Home Chapel with Pastor Natalia Mejia officiating.
Serving as Pallbearers: Merced Rosales, Sr., Richard Rosales, Joey Hinojosa, Tommy Gonzales, Jr., Daniel Flores, and Eddie Ramos.