Carlos G. Zuniga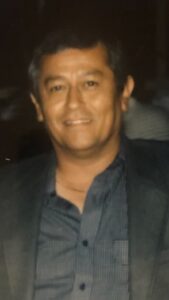 Carlos G. Zuniga, Age 83, of Kenedy, TX, passed away Sunday, October 17, 2021 surrounded by his loving family. Carlos was born on April 27, 1938 in Kenedy to the late Manuel H. and Maria Garza Zuniga. Carlos was a loving father, grandfather, uncle and friend.  He was a business owner having owned Zuniga's Grocery Store, The Monterrey Hall, The Playmor, and various other ventures and partnerships.  He served his country proudly in the U.S. ARMY and was of the Catholic Faith.
Carlos had a natural athletic ability and played several sports in high school.  He loved traveling to Las Vegas any chance he could, where you would most likely find him at the craps table.  He also had a passion for playing pool and was known by many as one of the best. He was a good friend to so many people from so many walks of life, and was always willing to help those in tough times.  He had an incredible sense of humor and loved to tell stories and jokes.
He is preceded in death by his parents, Manuel H. and Maria Garza Zuniga.
He is survived by his daughters, Marisa Zuniga of Houston, Julissa Zuniga of Selma; grandson, Aaron Hernandez of Selma; brother, Dr. Oscar Zuniga of Austin and a number nieces, nephews, family and beloved friends.
Visitation will be held Friday, October 22, 2021 from 9:00 A.M. to 10:30 A.M. with a Holy Rosary to be recited at 10:30 A.M. followed by Funeral Mass being celebrated at 11:00 A.M. at Our Lady Queen of Peace Catholic Church with the Rev. Stanislaw Marciniak officiating.  Interment will follow in the Loma Alta Cemetery in Kenedy, TX.
Serving as Pallbearers will be: Jorge Gonzales, Raul Santos, Roland Santos, Joe Foster, Robert Vidaurri, James Sutton, and Michael Arrieta.