Sharon Custer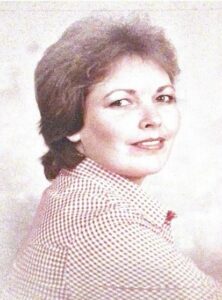 Sharon Elizabeth Donnell Custer, Age 72 of Choate, TX passed away Saturday, October 2, 2021 in Victoria, TX.  Sharon was born on March 6, 1949 in Choate, TX to the late William Arthur and Vine Elizabeth Braun Donnell.  She married Len Elwood Custer, Jr on July, 23, 1955 in Karnes City, TX.  She worked at Barth's Restaurant and HEB meat market.  Sharon was a loving wife, mother, grandmother, great-grandmother and a member of Choate Baptist Church.  She is preceded in death by her parents, William Arthur and Vine Elizabeth Braun Donnell; sister, Betty Sue Waide; and brothers, William Ernest "Butch" Donnell and Dwayne "Rusty" Donnell.  She is survived by her loving husband, Len Elwood Custer, Jr. of Choate, TX; daughter, Sherri Custer Garcia and husband Andres of Kingsville, TX; son, Len Elwood Custer, III and wife Sheila of Kenedy, TX; 5 grandchildren and 4 great-grandchildren.  Sharon loved taking vacations, especially to Graceland to see all of the memorabilia of Elvis Presley with her daughter Sherri and grandkids.  On one vacation to Nashville, she was able to get autographs from Garth Brooks, John Michael Montgomery, and Toby Keith.  These vacations were the highlight in her life, besides watching her children grow up and have grandchildren.  Sharon, also known as Nana, was very proud of her grandchildren and great-grandchildren.   Sharon never missed a birthday; she always sent a card or called her children and grandchildren personally on the phone.  Sharon loved to cook, and a lot of her famous recipes are still being shared by her family, especially her fudge and dressing.  Her secret recipes have been passed down and are used every Thanksgiving and Christmas.  Sharon raised her children to be hard-workers, great parents, and to have faith in God.  She will be missed dearly by the family, but at the end of the day, the faith she taught her family will continue on.
PRIVATE SERVICES will be held Thursday, October 7, 2021 at 11:00 A.M. in the Choate Cemetery with the Brother. Aaron Corporon officiating.
Serving as Pallbearers: Larson Snyder, Austin Custer, Andy Garcia, Matthew Garcia.
Memorials may be made to the American Kidney Foundation.