Minerva DeLeon Alvarado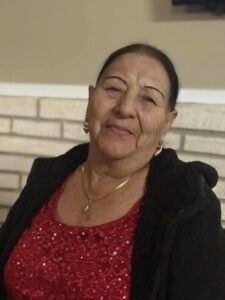 Minerva DeLeon Alvarado, Age 84, of Pawnee, TX passed away on Friday, October 15, 2021 in San Antonio, TX.  Minerva was born on January 18, 1937 in Pawnee, TX to the late Moises and Manuela Munoz Deleon.  She married Enrique Alvarado, Sr.  on August 24, 1954 in New Mexico who preceded her in death on October 9, 2003. Minerva was a loving wife, mother, grandmother, great-grandmother, great-great grandmother, friend to many and a devout member of Our Lady of Guadalupe Catholic Church in Pawnee, TX.
She is preceded in death by her parents Moises and Manuela Munoz DeLeon; husband, Enrique Alvarado, Sr.; brothers, Heriberto "Beto" Deleon, Alvaro "Varo" DeLeon and Oscar "Cale" DeLeon.
She is survived by her daughters, Maria Sylvia Padron and husband Fabian of Karnes City, Rosa "Rosie" Reyna and husband Ramon of Kenedy, Adelita Alvarado and James Barrientez of Karnes City; sons, Enrique Alvarado, Jr. of Pawnee, Agapito Alvarado and wife Olga of Kenedy, Adolfo "Duffy" Alvarado and wife Erlinda of Beeville; brother Juan DeLeon of Waco, 28 grandchildren, numerous great-grandchildren, and numerous great-great grandchildren and a host of nieces, nephews and dear friends.
A Holy Rosary will be recited Wednesday, October 20, 2021 at 7:00 P.M. in the Eckols Chapel.  Funeral Mass will be Celebrated Thursday, October 21, 2021 at 11:00 A.M. at Our Lady of Guadalupe Catholic Church in Pawnee, TX with the Rev. Richard Zielinski officiating.  Interment will follow in the De Ntra Sra De Guadalupe Cemetery in Pawnee, TX.
Serving as Pallbearers will be her loving grandsons: Jimmy Morales, Jr., Agapito Alvarado, Jr., Randy Alvarado, Ethan Alvarado, James Henry Alvarado and Leonardo Morin.