Abel A. Rodriguez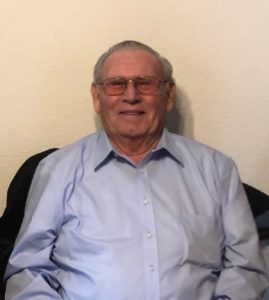 Abel Acevedo Rodriguez, aged 79, of Karnes City Texas passed away on September 4, 2019 surrounded by his loving family.
Abel was born to Pedro Rodriguez and Petra Acevedo Rodriguez on May 1, 1940 in Beeville Texas. He married Ester Saenz on February 16, 1963 and they lived together in Karnes City Tx. Together they raised 4 children.
Abel was a heavy equipment operator, mechanic and truck driver until he retired in 2015. He was an avid member of Smirna Pentecostal Church in Pawnee, Texas where he served as a Deacon.
His family remembers him as their rock and a man of God.
He was preceded in death by parents Pedro & Petra Acevedo Rodriguez. Brothers: Victor Acevedo, Santos Rodriguez, Mauricio Rodriguez, Benancio Rodriguez, and Domingo Rodriguez; Sisters: Tomasa Alvarado, Eustacia Saenz, Alicia Garza and granddaughter Teagan Grace Rodriguez.
Abel leaves his wife of 56 years Ester Saenz Rodriguez and as his legacy Noel (Sonja) Rodriguez of Three Rivers,Tx, Oralia Urrutia (Tony Cruz) of Kenedy, Tx, Enrique Rodriguez of Normanna, Tx and Edward (Jennifer) Rodriguez of Kenedy Tx.
He also leaves to cherish his memory 4 grandchildren. Ashley (Michael) White of Karnes City, Tx, Eric Rodriguez of San Antonio, Tx, Korie Rodriguez of San Antonio, Tx and Hailey Rodriguez of Kenedy, Tx along with 2 great grandchildren Amariah White of Karnes City, Tx and Roger Gill of San Antonio, Tx.
Abel is also survived by his siblings Rebecca Rodriguez of Beeville,Tx, David (Lydia) Rodriguez of Beeville, Tx, Nohe (Elma) Rodriguez of Pettus,Tx, Daniel Rodriguez of Beeville, Tx, Toribio (Francis) Rodriguez of Beeville, Tx and Dolores (Gary) Richards of Normanna, Tx along with a host of nieces, nephews, & cousins.
Prayer services are scheduled for September 6, 2019 @ 7 pm at EcKols Funeral home. Funeral mass services are to be held at Smirna Pentecostal Church in Pawnee Tx on September 7, 2019 @ 10 am. Burial to follow at New Bremen Cemetery in Lenz Tx.