Sue Bernice Robbins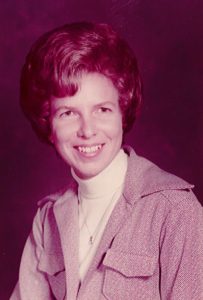 Sue Bernice Vaughn Robbins, 74, of Victoria, TX passed away peacefully on July 2, 2018. She was born near Kenedy,TX on March 25, 1944 to the late Emmitt L. Vaughn and Laura Wessels Vaughn.  She graduated from Kenedy High School in 1962.  She also graduated from Southwest Texas State University at San Marcos, TX in 1966 with a BA in Mathematics.  After college she worked in Civil Service for the Army at the Redstone Arsenal near Huntsville, Alabama and the Corpus Christi Army Depot.  She married Leroy Robbins on July 23, 1977 in Corpus Christi, TX.  They later moved to Beeville, TX where they both taught at Coastal Bend College.  Sue continued her education and received a Masters Degree in Art. She enjoyed doing crafts including painting, ceramics, pottery, quilting, and baking, and her favorite, crocheting..  Sue and Leroy later moved onto her family farm south of Kenedy.  Leroy passed away on January 8, 2008.  When Sue realized that she could no longer maintain her home in the country, she moved to Copperfield Village in Victoria, TX on July 8. 2013.  She loved the independent living lifestyle with her crafts, good food and the gated community.  Sue attended Lighthouse Free Will Baptist Church, and Pastor John Hancock and his wife visited her often.
Sue was preceded in death by her husband Leroy Robbins, her parents, sisters: Marjorie Walston and Doris Humphries, and step-son: Gary Robbins.  Sue is survived by her sister, Ruby Wommack of Kingsville, TX, and brothers, Jerl Vaughn(Pat) of Victoria TX, and Lloyd Vaughn(Sharon) of Beeville, TX,  stepson, Don Robbins of Corpus Christi, TX, and stepdaughter, Linda Harshman of Portland, OR, and many nieces and nephews.
Visitation is from 11:30 to 1:30 on Saturday, July 7, 2018 at Eckols Funeral Home in Kenedy, TX.  The funeral service will follow at 1:30 p.m. with Rev. Dale Wommack officiating.  Burial at Kenedy Cemetery.
A special thanks to Dr. Richard Leggett and his staff who attended to Sue's medical needs, and to the Hospice of South Texas for their wonderful care given to Sue this past year, and also to the Hospice of South Texas Dornburg Center of Compassion inpatient care facility.