Betty Jean Brown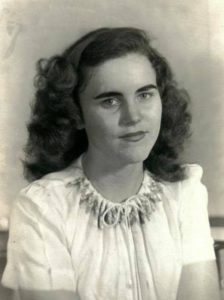 Betty Jean Brown, Age 89 of Kenedy, TX passed away Sunday, May 20, 2018 in Karnes City, TX. Betty was born on April 7, 1929 in Ingram, TX to the late Howard and Pearl Furr Sammons.  She married Cecil Brown in 1948 in Kenedy, TX.  She was a member of Kenedy First Baptist Church, a loving wife, mother, grandmother and great-grandmother and great-great-grandmother.
She is preceded in death by her husband Cecil E. Brown; parents, Howard and Pearl Furr Sammons.
She is survived by her daughters; Marianna Martin  and husband John of Midland, Billie Ann Brown of Kenedy, Kathy Gorzell and Lester of Gorzell of Falls City; Sons, Allen Brown and wife Lynn of Kenedy, Morris Brown and wife Melody of Kenedy, Larry Brown and wife Jamie of Kenedy, 19 grandchildren and 24 great-grandchildren,  and 14 great-great-grandchildren.
Family Visitation will be held Tuesday, May 22, 2018 from 6:00p.m. to 8:00p.m. in the Eckols Funeral Home Chapel.  Services will be Wednesday, May 23, 2018 at 2:00P.M. in the Eckols Funeral Home Chapel  with  Interment to  follow in the Kenedy Cemetery, Kenedy, TX.
Pallbearers will be Alex Gorzell, Andrew Gorzell, Glenn Praesal, Jeffrey Creswell, Dusty Brown, Stephen Creswell, Bryan Martin, and Shawn Brown.
Memorials may be made to the South Texas Children's Home or the San Antonio Pets Alive and the Karnes County Humane Organization.