Elaine Elizabeth Friedmann Ricks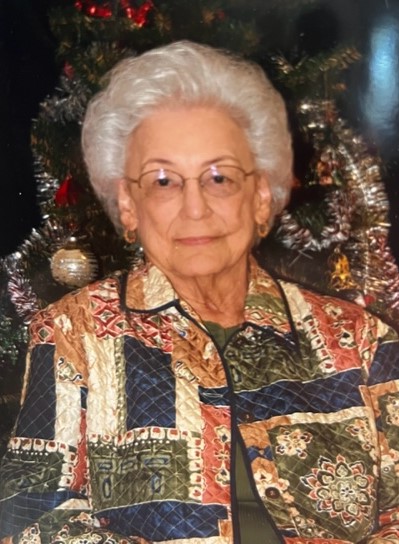 Elaine Elizabeth Friedmann Ricks went to be with the Lord on July 13, 2023, at age 95. Elaine was born August 14, 1927, in San Antonio Texas to Selma Klein and William Friedmann. She attended business school in Chicago, Illinois and returned home to work. On July 16, 1948, she married Lawrence Lee Ricks. She was a wife, homemaker, a mother to Nancy Ruth Ricks Harris, grandmother to Kristina Lynn Neuman, Jeffrey Brian Harris, and Melanie Nicole D'Andrea and great-grandmother to Wyatt Christopher Neuman, Morgan Lee Neuman, and Aiden Lee D'Andrea.
Elaine was preceded in death by her husband Lawrence Lee Ricks, father William Friedmann, mother Selma Klein Friedmann, and her sisters Helen Mueller (Alfred Anthony "Buddy" Mueller), Evelyn Psencik (Leo Psencik), Ruth Burgess (Raymond Burgess).
Services will be held at 9:30 am at Eckols Funeral Home, 420 W Live Oak St, Kennedy, TX 78119, 830-583-2533 on Friday, July 21, 2023. Entombment will follow at Holy Cross Cemetery, 17501 Nacogdoches Rd, San Antonio, TX 210-651-6011.
Honorary Pallbearers are Jeffrey Brian Harris, Wyatt Christopher Neuman, Morgan Lee Neuman, Aiden Lee D'Andrea, Roy Wayne Cox, William Anthony Ricks, Mark Ricks, Steven Ricks, Wayne Psencik, Brian Neuman, and Tim D'Andrea.