Alicia Montalvo Aguilar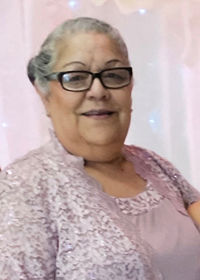 Alicia Montalvo Aguilar, 73, of Des Moines, Iowa was called home to our Lord and Savior on April 12, 2023.
Alicia was born on September 17, 1949 in Kenedy, Texas to Guadalupe Montalvo and Maria Montalvo Fuentes. After moving to Des Moines, Iowa with her family, she worked for many years at Broadlawns Hospital where she later retired from. After retiring, she spent much of her time with family creating cherished memories. You could find her watching Lifetime movies or with a crossword or scratch off tickets in her hands.
Alicia created a family that everyone wanted to be a part of and welcomed anyone into her home for tacos, laughs, conversation, or even, a nap. She was genuine, beautiful, and God-loving. She was so funny and often told jokes that would make your jaw drop and your belly hurt. Alicia was many things to many people, but one thing you could be certain of, was that she loved them, made them feel welcome and treated them like family. She loved unconditionally and with no limits. She taught us many valuable life lessons: work hard to get what you want, appreciate what you have, enjoy your life, and find happiness in everything you can. She will be greatly missed by so many people.
Alicia is preceded in death by her parents Guadalupe Montalvo and Maria Montalvo Fuentes, her brothers Robert Montalvo, Joe Fuentes, and Juan Garcia, her sisters Anita Villanueva, Estela Hinojosa, and Audelia Bowen.
She is survived by sisters Martina Mendoza, Diana Chabolla, Antonia Garza, and Lupita Montalvo and her brother Rolando Montalvo, her four children, daughters Mary Ann Aguilar, Reyna Montero, Debora Aguilar, and her son Agapito Aguilar Jr., as well as 14 grandchildren and 18 great-grandchildren (with 2 more on the way).
Visitation will be held on Thursday, April 20, 2023, at 1:00 p.m. Service will be held later that same day at 7:00 p.m., at Hamilton's Funeral Home, 605 Lyon Street, Des Moines.
A second visitation will be held on Tuesday, April 25, 2023, from 4:00 to 9:00 p.m. at Eckols Funeral Home, 420 Liveoak Street, Kenedy, Texas. Burial will be held at 1:00 p.m. Wednesday, April 26, 2023, in her hometown of Kenedy, Texas.