Robert Michael Fudge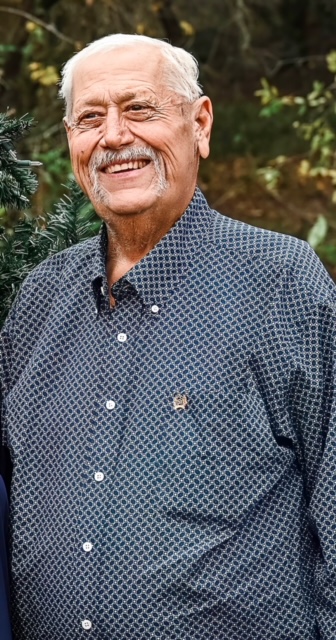 Robert Michael Fudge went to be with our Lord on Wednesday, April 5, 2023 in San Antonio, TX with his family by his side. Robert was born on January 22, 1954 in Victoria, TX to Welton and Maxine Fudge. They had two children. Robert was a "PROUD" Kenedy LION and graduated with the Class of 1973.
Robert is preceded in death by his parents, Welton E. and Maxine Parker Fudge.
Robert is survived by his loving wife Crystal; daughter, Niki Leighton and husband Scott; son, Justin Fudge and wife Erin; three grandchildren Baleigh Fudge, Broden Fudge, Ace Leighton; sisters, Linda Ivey and husband David, Carol Davis and husband Andrew; brother, Ronnie Fudge and wife Shirley and numerous nieces, nephews and many dear friends.
Robert is preceded in death by his parents, Welton and Maxine Fudge and mother-in-law and father-in-law, Patsy and Gene Barrier.
Visitation will be held Monday April 10, 2023 from 5:00 P.M. to 7:00 P.M. in the Eckols Funeral Home Chapel. Services will be Tuesday, April 11, 2023 at 10:00 A.M. at the First Baptist Church Kenedy with Rev. Matt Singleton officiating. Interment will follow in the Karnes County Memorial Park in Kenedy, TX.
Memorials may be made to the First Baptist Church Building Fund or the Donor's Choice
Serving as Pallbearers: Ricky Card, Grady Kelley, Joe Garza, Mario Garza, Rene Martinez, Wes Owens, Pat Tam and Troy Wygrys.
Honorary Pallbeares: Levi Owens, Crystal Tam, Kevin Tam, Paige Tam and Patrick Tam, Jr.
Robert Michael Fudge's Story
All of us have many fond memories of Robert.  Here is a glimpse into the rest of  his life.  Some parts you may know about Robert and others you may hear for the first time.       
Robert married Crystal Barrier on April 1,1972. After 7 years of marriage, they were blessed with 2 children Niki and Justin which completed their family. As of April 1, 2023, they had been married 51 years. On this past Anniversary, Robert was so sick in the hospital. Crystal walked into his room and told him, " Happy Anniversary!"To which he replied, "I don't guess we're going to eat a steak dinner." He still had his sense of humor despite not feeling well.
Many of you may not know that Robert and Crystal both loved horses. In the early years of their marriage, Robert and Crystal, almost every weekend, along with friends, would find time for a trail ride. They would ride horses for miles, laughing and having a great time. Something else Robert did was break horses as a side job. He always had a horse that he would be breaking for someone. Robert had a favorite horse that he loved and she loved him. The horse was a palomino named Julie. Julie would not let anyone else but Robert ride her!
Most of you know that Robert was a hard worker and had several jobs during his lifetime. He worked for the Texas Highway Dept in Corpus for a short time before he and Crystal decided they wanted to move back home. When they were back in Kenedy, he took a job with Continental Oil Company in the Uranium mines. Robert also worked for Pawnee Lease Service, Karnes County, and Atascosa Mining where he drove big dump trucks, scrapers, bulldozers and backhoes. Lastly, Robert worked at the J.B. Connally Correctional facility. After he retired, he enjoyed helping Pat Tam. He was "always" going to Pat's. Through the years, Robert made many lifelong friends that he cherished.
Robert loved the outdoors and all kinds of hunting: coon, coyote, deer, bird, squirrel, and hog. He loved it all. If it could be hunted, Robert hunted it. Even Robert and Crystal's honeymoon night was spent hunting coons. In more recent years, he and Grady Kelley put up a deer blind on family land. It was nothing special but it was a palace to him.
Robert had many other hobbies that he really enjoyed sharing with others as well. He never turned down a game of dominoes or cards. He very much surprised us once at the lake when he was playing with Niki and the grandkids. He was able to tell what was in each of our hands and would tell us what to play when it was our turn. Robert loved to cook, can, and bake for anyone and everyone. He especially loved making hot sauce, jams, and bread pudding. He even had people from out of state wanting his extra hot hot sauce. As a family, the meal we are going to miss most is Robert's Chicken and Squash. It was the best!
Robert was raised and baptized in the Church of Christ. Later, he became a member of FBC Kenedy where he shared his gift of cooking. Robert absolutely loved being on the hospitality committee. Most people know Robert as a people person. He loved people and never met a stranger. He made his rounds to the different local coffee shops to talk with whomever he came across. You needed at least 20 minutes to talk with him and he was sure to bring out his flip phone to show pictures of his pride and joys, Baleigh, Broden, and Ace.
Robert loved watching anything and everything that his grandchildren, Baleigh and Broden, were involved in from sporting events, dance recitals to showing steers. He made all of their events when he was able to and wanted an update on how they did if wasn't able to. Oh and we were sure not to forget to send pictures to his flip phone so he could show them off. He also enjoyed teaching and playing patty cake with his newest grandson Ace.
Over the last 9 months, Robert spent countless days in the hospital. He was always eager to return home so he could ride around town and enjoy catching up with others. Robert had a will to live like no other. He was loved by so many and will be greatly missed. We know that our time here on Earth is short but we find comfort in knowing we will one day be reunited in heaven.
Honorary Pallbeares: Levi Owens, Crystal Tam, Kevin Tam, Paige Tam and Patrick Tam, Jr.