Sybil Inez Radicke Atkinson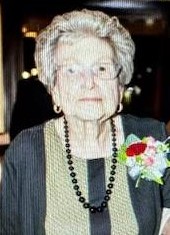 Sybil Inez Radicke Atkinson, Age 96 of Kenedy, Texas passed away April 26, 2023. She was born to Arthur and Winnie Radicke on December 26, 1926 in Gillett, Texas. Sybil married Bailey Franklin Atkinson on July of 1944. They shared 52 years of marriage raising an active family of 6 children. First and fore most she was an avid loving mother, wonderful cook and enjoyed being a skilled seamstress sharing her talents with the community.
She is preceded in death by her parents; husband, Bailey Franklin Atkinson; sister, Gladys Tenberg; sons, Jimmy & Bailey Ray Atkinson; daughter, Candice Novak and granddaughter, Erika Winegar.
She is survived by her brother, Cecil Radicke; children, Beverly Castle and husband Craig, Becky Spahn and husband Skip, Brenda Wymer; eight grandchildren, Scott Atkinson, Wesley Novak, Nicole Novak, Zachary Winegar, Lisa Devine, Vicki Noble, Courtney Ryan, Chris Castle, numerous great-grandchildren, nieces and nephews.
Visitation will be held Monday, May 1, 2023 from 10AM to 12PM in the Eckols Funeral Home Chapel. Private Graveside Services will follow in the Kenedy Cemetery in Kenedy, TX.