Ray Dean Hinojosa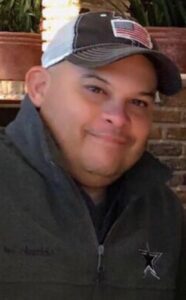 Ray Dean Hinojosa, Age 45 of Kenedy, TX passed away on Sunday, July 18, 2021.  Ray was born on July 30, 1975 in Beeville, TX to Reynaldo Hinojosa, Jr. and Alice Cano Saenz.  He was a contractor, a loving husband, father, grandfather, brother, uncle, friend to many who loved to hunt, fish, spend time with his family and was of the Catholic Faith.  Ray is preceded in death by his Maternal Grandparents, Lupe and Armida Cano; Paternal Grandfather, Reynaldo Hinojosa, Sr.; Aunt, Shirley Hinojosa; and Uncle Lupe Cano, Jr.  Ray is survived by his loving wife, Angie Naranjo Hinojosa of Kenedy, Mother, Alice (Felix) Saenz of Kenedy; Father, Reynaldo Hinojosa Jr. of Kenedy, daughters, Lindsey Allyson Hinojosa (Chris Pena) of Kenedy, Audriana Rae Hinojosa of Kenedy; Sons, Matthew Ray Hinojosa of San Antonio, Jacob Ryan (Savannah) Hinojosa of Corpus Christi; Grandmother, Anita Hinojosa of Kenedy; Sister, Stacia (Johnny) Jacques of Kenedy; Brother; Stevie Ray Hinojosa of Kenedy; grandchildren, Roman Ray Pacheco of Kenedy, Liam Daniel Pena of Kenedy; Nephews and Nieces, Zeke (Victoria) Jacques of Kenedy, Kaitlin Jacques of Kenedy, Timothy Jacques of Kenedy, Ava Hinojosa of Kenedy, Arianna Hinojosa of Kenedy, Arya Hinojosa of Kenedy; Great Nephew Reese Johnny Jacques of Kenedy and a host of family and friends.
A Celebration of Life Service will be held from 2:00 PM to 3:30 PM Sunday, July 25, 2021 in the Eckols Chapel.  A Reception will follow at the Kenedy City Hall immediately after the Celebration of Life Services.
Honorary Pallbearers: Zeke Jacques, Timothy Jacques, Roberto Infante, Joe Naranjo, Marcus Villarreal, Sr, and Chris Pena.
ALL THOSE ATTENDING RAYDEAN"S SERVICES ON SUNDAY ARE ASKED TO WEAR THEIR MASKS INTO FUNERAL HOME AND ECKOLS CHAPEL.
WE APPRECIATE YOUR COOPERATION.