Vernell Joyce Oehlke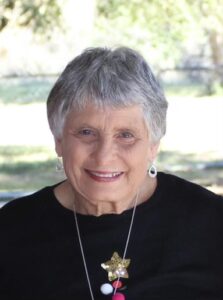 Vernell Joyce Oehlke, 84, of Kenedy, TX passed away on July 18, 2021. She was born on May 23, 1937 in Goliad County, TX to the late William and Erna Volkmer. She married Ruben Paul Oehlke on December 30, 1955 in Schroeder,TX. Vernell stayed busy working in the home and upon Ruben's passing she maintained the ranch and her cattle.
In addition to her husband Ruben, she is preceded in death by her parents: William and Erna Volkmer; brother: William Volkmer; In-Laws: Gus and Ella Oehlke; brothers-in-law: Darwin Oehlke, Alton Oehlke and sister–in-law: Laverda Oehlke.
She is survived by her daughters: Glenda Arnold (Jeffrey) of Sugarland, TX, and Shirley Bleidt (Barry) of Seguin, TX; son: Vernon Oehlke (Tammy) of La Grange,TX; grandchildren: Brooke Oehlke, Ryan Ermis (Leah), Cody Arnold, Justin Oehlke (Amber), Courtney Garrett (Van), Jackie Gilley (Tommy) and Brittany Bleidt; great grandchildren: Emma Bleidt, Carlie Pochron, Weston Oehlke, Caleb Gilley, Colton Oehlke; brother-in-law: Gaylon Oehlke (Kathy) and sisters-in-law: Barbara Volkmer and Sarah Oehlke.
Public visitation will be held Thursday, July 22, 2021 from 6:00p.m. to 8:00p.m. at Eckols Chapel. Funeral services will be held on Friday, July 23, 2021 at 10:00a.m. at Eckols Chapel with Rev. Randy Bruno officiating. Interment to follow in the Kenedy Cemetery.
Pallbearers: Ryan Ermis, Cody Arnold,  Justin Oehlke, Tommy Gilley, Van Garrett, and Brad Volkmer.
The family would like to extend their thanks to Hospice of South Texas.
Memorials may be made to St. Paul's Lutheran Church, 409 N. Wilbern St., Runge, TX 78151 or the Hospice of South Texas, 605 E. Locust Ave., Victoria, TX 77901.
ALL THOSE ATTENDING MUST WEAR THEIR MASKS INTO ECKOLS FUNERAL HOME AND INTO ECKOLS CHAPEL .
WE APPRECIATE YOUR COOPERATION.