Marshall Arnold "PeeWee" Bowling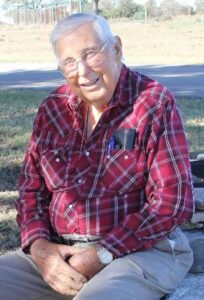 Marshall Arnold "PeeWee" Bowling passed away Sunday May 2, 2021 at the age of 93. PeeWee was born Feb 15, 1928 in Ponta, TX  to Colonel Ross and Alma Matteson Bowling.  PeeWee worked in the Oil and Gas industry for over 50 years which culminated in him being the President of a nine Rig Drilling Company. After retiring he moved to his ranch in Pawnee Tx and raised Cattle, goats and dogs.  PeeWee was preceded in Death by his parents, his wife Genevieve Watts Bowling who passed away in Sept. 1978 and wife Barbara Moseley who passed away in Sept. 2012. His brothers Haskell Bowling, Oswald Bowling and Clyde Bowling and his sisters Oweta Murphy, Marguerite McLeod and Rossie Tipton.  He is survived by his son Marshall Bowling and wife Gwen of Scroggins Tx, daughter Becky Bluntzer and husband Rick of Spring Branch TX, son Steve Bowling of Breckinridge TX, his best friend and companion Liz Gibbens, Grandchildren Brandi Bullard (Chester), Stephen Bowling (Scarlett), Britni Ryan (Chad), Marshall Bowling, Shay Bluntzer (Megan), and Patrick Bowling. Great-grandchildren Koby Bullard, Kaylee Ryan, Lainey Bullard, Garick Ryan, Carys Bowling, Wyatt Bowling, Owen Bluntzer, Mary Claire Bluntzer and Drake Bowling, sister Maxie Ray Brown, numerous nieces and nephews.
The family would like to thank the staff at River City Hospice and especially Brandon Cobb, PeeWee's nurse, for the extraordinary care and kindness they provided PeeWee and the family.
Services will be held at Eckols Funeral Home in Kenedy, TX on Wednesday May 5th at 11:30 a.m. with graveside services at 2:00 p.m. in Robstown Memorial Park Cemetary . In lieu of flowers, memorial contributions may be made to Alzheimer's research at alz.org/research.