Bernice (Tuttie) Schroeder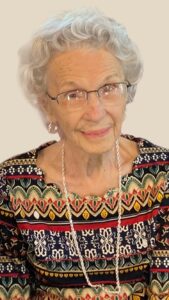 Bernice (Tuttie) Schroeder was born July 26, 1929 to Willie H. Esse and Mary Retzloff Esse in Lenz, Texas.  She passed from her earthly home near Peggy on May 12, 2021 at the age of 91 years.
She was one of six children that grew up in the Esseville community.  Tuttie attended Tom's school near her home for grades 1-8.  She graduated from Three Rivers High School in 1946 and continued her education at Southwest Texas Teachers College, now known as Texas State University.  Tuttie completed a Bachelor of Music Education in 1950.  Following graduation she taught school in Campbellton for 3 years. She married Albert Schroeder July 15, 1950 and they were married for 63 years until Albert's passing in 2013.  The family had three daughters, Shirley, Sharon and Sandra, the 3 S's.
Growing up, she worked with the family's Esse Mercantile store and cotton gin. She learned bookkeeping skills from her mother. Tuttie helped Albert with the family's farming business and would drive the grain truck during harvest.  Albert encouraged her to learn the operation so she could carry on after his death.  She continued to manage the cattle until her death.
Tuttie always loved music and her music career began early by singing at Tom School Community Church.  She sang at many weddings, was in the accapella choir while in college, the band, orchestra, and church choir.  She continued to sing accapella in church until Covid hit in 2020.  It was very important to her that her daughters learn music as they were growing up.
Church was very important to Tuttie and she was active in every aspect of church life.  She was a member of the Fashing United Methodist Church since 1942.  She taught Sunday School for the high school class and was an active member and President of United Methodist Women. Tuttie was involved with church dinners, cleanups and her most recent project, the renovation of her beloved church.  She was a powerful prayer warrior and mother figure to many.  Everyone knew her prayers reached the Almighty. Her love of the Lord and people was evident.  She radiated that love and was interested in ongoing projects and improvements, no matter whose project it was.
Tuttie was preceded in death by her parents, her beloved husband, Albert, brothers, Willie Esse Jr., James Esse and Roy Lee Esse;  sisters Mildred Giese and Mary Jane Froehner, and nephew, Steven Froehner.
She is survived by daughters, Shirley (Tim) Jambers, Sharon (David) Purser, Sandra (Kip) Gibbs.  Grandsons, John (Sarah) Jambers, Justin Gibbs, and Jeremy (Callie) Purser.  Granddaughters, Sharla (Travis) Myers, Kendall (Rob) Molina and Katrina Gibbs.  Great Grandchildren, Jack Jambers, Carter Jambers, Everly Myers, and Archer Myers, as well as numerous nieces and nephews.
The family is thankful for the loving care of Belia Garza and Viola Cortez during the last weeks so Tuttie could have her wish of staying in her home.
Visitation and Sharing of Memories will the held at the Fashing United Methodist Church on Sunday, May 16 from 5:30 pm – 7:30 pm.
Funeral Service will be held at Eckol's Funeral Home in Kenedy on Monday, May 17 at 10 am, followed by her burial at the Fashing Cemetery.
Memorials may be made to the following or a charity of your choice:
Fashing United Methodist Church, PO Box 3, Karnes City, TX 78118
Fashing Cemetery, Inc., 501 Jambers Ranch Road, Whitsett, TX 78075
Providence Place, 6487 Whitby Road, San Antonio, TX 78240-9989
Methodist Children's Home, PO Box 5010, Waco, TX 76708