David Leal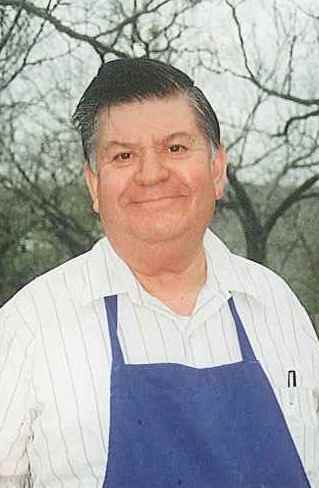 David Leal, a former resident of Kenedy, Texas, passed away, Saturday, November 24, 2012, at 1:15 A.M., in the Trisun Care Center-River Ridge in Corpus Christi, Texas at the age of 73 years, 4 months and 20 days. David was born, July 4, 1939 in Westhoff, Texas, the son of Julio Leal and Angelita Tijernia Leal. He was an insurance salesman, owner of Dairy Whip and El Charro Café. HE was a faithful servant of the Lord and followed the example set for him by his loving parents, his brother, Jose Leal and his sister, Lydia Mendoza.
David is preceded in death by his parents; his brother, Jose Leal; his sister, Lydia Mendoza one granddaughter, Lori Beth Leal and two grandsons, John Aaron Benavidez, Brandon Leal and. Mr. Leal is survived by his four daughters, Irene Gonzales and husband Roland of Corpus Christi, Texas, Sylvia Leal of Kingsville, Texas, Diane Gamez and husband Tino of Kingsville, Texas and Becky Benavidez and husband Simon of Katy, Texas; his 9 grandchildren; 7 great-grandchildren and numerous nieces, nephews, cousins and other relatives.
Visitation was held, Sunday, November 25, 2012, in the Eckols Funeral Home Chapel, Kenedy, Texas, with a prayer service to he be held at 6:00 P.M., in the chapel. Funeral services were held at 10:00 A.M., Monday, November 26, 2012, in the Eckols Funeral Home Chapel with Rev. Juan Carmona, officiating. Interment followed in the Helena Cemetery.  Serving as pallbearers were, Brian Leal, Woody Gonzales, Roland Gonzales, Estevan Gamez, Claro Ybarra, Simon Benavides, Tino Gamez and Jason Gonzales.